National Scholarship Portal (NSP) 2020 has been launched by the Ministry of Electronics and Information Technology, Government of India.
The portal is a simplified platform created for students to help them avail benefits of educational scholarships.
The NSP portal is a one-stop solution through which various services starting from student application, application receipt, processing, sanction and disbursal of various scholarships to students are enabled.
NSP is taken as Mission Mode Project under National e-Governance Plan (NeGP) for faster and effective disposal of Scholarships applications and delivery of funds directly into beneficiaries account without any leakages.
Through the portal, students can register and submit their application online for applying scholarship schemes sponsored by the state and central governments.
The students can also track the status of their own application with User ID and Password generated by the system and they can renew their applications with same credential.
Schemes at National Scholarship Portal (NSP) 2020
Central schemes
Ministry of Minority Affairs
Pre Matric Scholarships Scheme for Minorities
Post Matric Scholarships Scheme for Minorities
Merit Cum Means Scholarship For Professional and Technical Courses CS
Department of Empowerment of Persons with Disabilities
Pre-matric Scholarship for Students with Disabilities
Post-matric Scholarship for Students with Disabilities
Scholarships for Top Class Education for students with disabilities.
Ministry of Social Justice & Empowerment
Top Class Education Scheme for SC Students
Ministry of Labour & Employment
Financial Assistance for Education of the Wards of Beedi/Cine/IOMC/LSDM Workers – Post-Matric
Financial Assistance for Education of the Wards of Beedi/Cine/IOMC/LSDM Workers – Pre-Matric
Aam Aadmi Bima Yojna Scholarship for Andhra Pradesh
Ministry of Tribal Affairs
National Fellowship and Scholarship for Higher Education of ST Students – Scholarship (Formally Top Class Education for Schedule Tribe Students) – only for scholarships
Department of School Education & Literacy
National Scheme of Incentive to Girls for Secondary Education(NSIGSE)
National Means Cum Merit Scholarship
Department of Higher Education
Central sector scheme of scholarships for college and university students
WARB, Ministry of Home Affairs
Prime Minister's Scholarship Scheme For Central Armed Police Forces And Assam Rifles
Prime Minister's scholarship scheme for wards of states/uts police personnel martyred during terror/naxal attacks
RPF/RPSF, Ministry of Railway
Prime Minister's Scholarship Scheme For RPF/RPSF
Procedure to check eligibility at NSP 2.0 (National Scholarship Portal 2.0)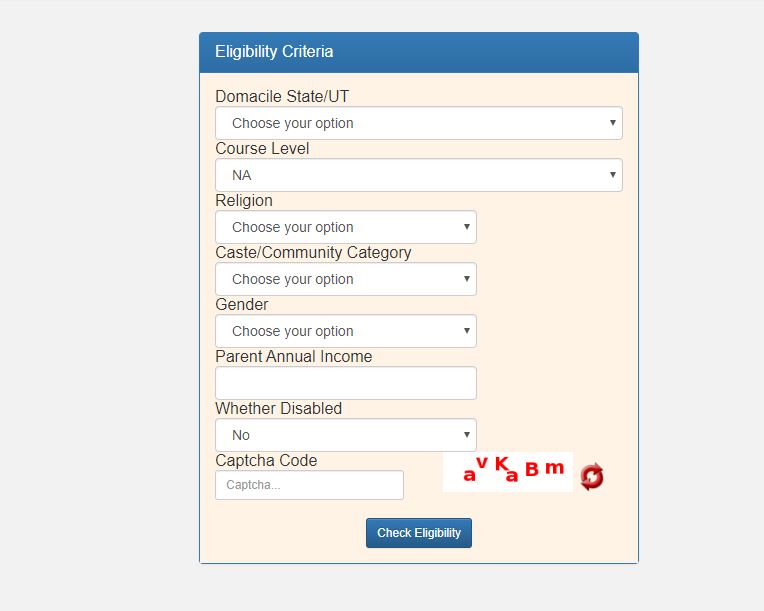 • To check the eligibility criteria to avail the scholarship, you need to go to the National Scholarship Website
•          From home page of the website, you need to go "services" option
•          Then click "scheme eligibility" from the drop-down options
• Enter the details such as Domicile State/UT, Course Level, Religion, Caste/Community Category, Gender, Parent Annual Income, Whether Disabled and captcha code
• Then click on "check eligibility" option
Documents required for registration
• Aadhar Card
• Bank account Passbook
• Caste Certificate if you belong to a special category
• Income certificate as per your scholarship type
• Mobile Number
• Passport Size Photograph
• Previous Year Education Qualification certificate
• Self-declaration certificate
Online submission of scholarship application form can be done through NSP log in at the website http://www.scholarships.gov.in/loginPage
Applying procedures for Scholarship Schemes for both Fresh and Renewal are given below:
Fresh Application: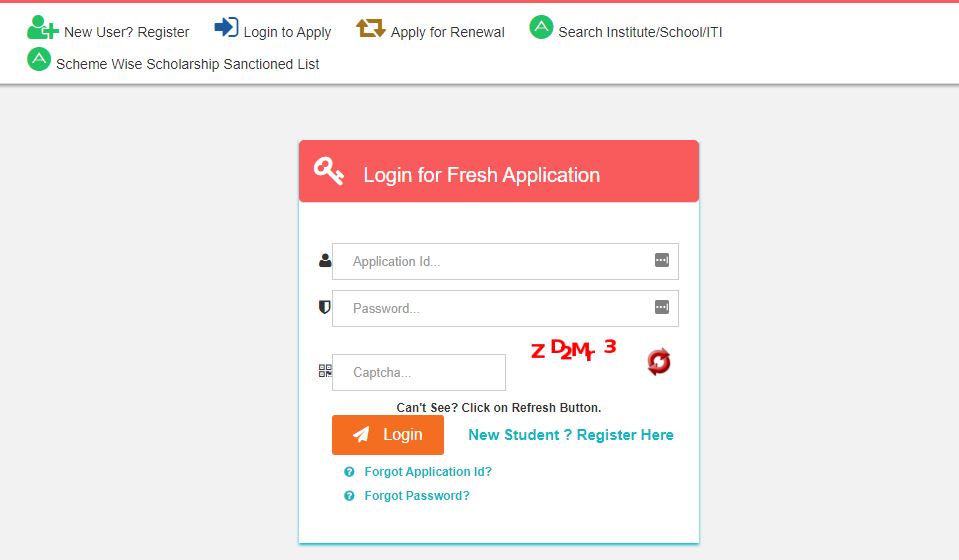 Student need to click on the option "Student Login", on the home page of National Scholarships Portal
Fill up the application as per the instructions given by the system then click on save button.
After saving, student will get a "Temporary ID".
The portal will instruct the applicant to submit his/her Temporary ID and date of birth to fill subsequent details.
Once registration is complete on click of submit button, a Permanent Registration ID is generated which can be used for Renewal and tracking the status of application
The Application Id and Password will be sent by SMS
Renewal of Application:
For renewal, students have to apply with their Application Id and Date of Birth which they registered previous year.
Student can also use Forgot Application ID to retrieve their ID.
Only those students would be able to Renew who had actually got the scholarships payments last year from NSP 1.0
You cannot apply as a fresh if you are a Renewal candidate. Your application will be rejected in that case.
All the information can be edited till the closure of application form. After final submission, your application will be forwarded to the next level and application hereby cannot be edited.
Helpline Number
For any query relating to the NSP scholarship, you can contact on helpline number 0120 – 6619540 and email at helpdesk@nsp.gov.in