Bhubaneswar: TPCODL has always aimed at offering its customers easy access to a gamut of services and is committed to creating customer delight. As a customer-centric organization, it has always aimed at offering the utmost convenience for all its populace under the licensed area.
In a quest to enhance digital payment from the rural area, TPCODL has now collaborated with BFIL, IndusInd Bank for accepting bill payments through Bharat Money Stores.
Around 8500+ Bharat Money Stores, the local Kirana Shop, are spread across the TPCODL area.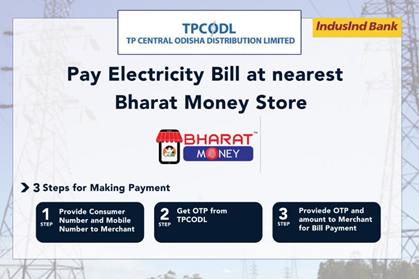 With the above service, rural customers can pay their bills at the nearest rural Kirana shop making bill payment an easy process.
Speaking about the partnership, Roopa Satish: Head – Corporate & Investment Banking, CSR & Sustainable Banking, IndusInd Bank said, "IndusInd Bank has over 20 lakh customers based in rural and semi-urban locations of Odisha. Majority of them had to spend a lot of time and effort traversing long distances to make utility bill payments. Keeping this in view, we are delighted to partner with TP Central Odisha Distribution Limited to facilitate electricity bill payments in a fully digital manner, through our vast network of Bharat Money stores. We believe, this will offer immense convenience to our rural customers as they will now be able to simply walk into their nearest Kirana shop and make payments in a seamless manner. We look forward to co-creating more such initiatives in the near future for our customers."
On the launch of another customer-centric initiative, M. Shenbagam, Chief Executive Officer, TP Central Odisha Distribution Ltd said "It's always been our prime focus to enhance customer experience through numerous initiatives. Bharat Money Stores will help the people pay their electricity bill at their nearest location. This service is to make our rural customers' payment process as convenient as possible. We are delighted to partner with IndusInd Bank and co to create this payment option for enhancing our customers' experience."