Bhubaneswar: JSPL Foundation, the Corporate Social Responsibility (CSR) arm of Jindal Steel and Power Limited (JSPL), on Wednesday, felicitated 33 Rath Shilpis, artisans, and craftsmen from Puri with second Swayamsiddh Samman here in Bhubaneswar.
These artisans were honored for their dedication and unmatched skill in building Lords' Chariot for Ratha Yatra (Car Festival) every year.
Along with the Swayamsiddh Samman, each awardee was given a financial support of Rs. 10000/-.
Guruji Srimad Budha Bapa presented the honor to these Rath Shilpis. The Samman was presented in collaboration with Dr. Raghunath Mohapatra Art & Craft Foundation.
Notably, honoring the Rath Shilpis is first of its kind in Odisha. The awardees are from Maharana Sevak, Kamara Sevak, Karata Sevak, Bhoi Sevak, Rupakar Sevak, Chitrakar Sevak and Daraji Sevak.
"Within a very short span of time, these artisans and craftsmen make grand chariots for the Lord's car festival. Their age old skill is unique in nature, and they certainly deserve appreciation. Conferring the second Swayamsiddh Samman to them is an attempt by JSPL Foundation to recognize and encourage their service to the Lord. I am only an instrument to carry out the wishes of Lord Jagannath," said Shallu Jindal, the President of JSPL Foundation.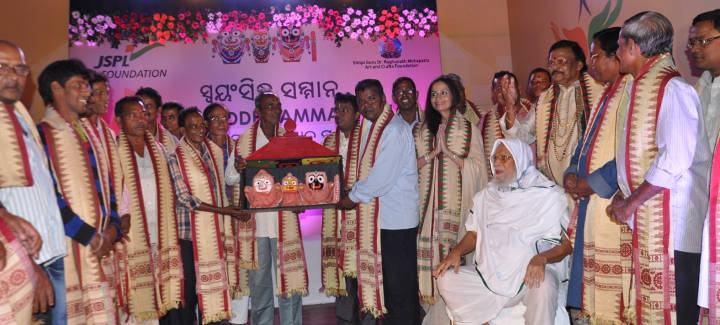 She also announced for launching social security support like pension to senior artisans.
Raghunath Mohapatra, the President of Lalit Kala Akademi Padma Vibhushan, appreciated the efforts of JSPL Foundation in honoring the Rath Shilpis.
Dr. Raghunath Mohapatra Art & Craft Foundation, in consultation with the Shree Jagannath Temple Administration, selected the awardees by their seniority and years of service for the devotional cause.
Notably, every year these Rath Shilpis build the chariots 'The Taladhawaja, The Darpa Dalana & The Nandighosha' with immaculate craftsmanship and artistry. These three grand chariots are also constructed within very short span of times, in about two months, from Akshaya Tritiya to Sri Gundicha. The Chariots are itself massive pieces of art, adorned with numerous designs & patterns.
Last year, Swayamsiddh Samman was presented to 20 individuals and 9 self-help groups from different districts of Odisha, for their exemplary courage, commitment, and confidence that has enabled them to overcome adversities and create a unique identity of their own, making them a source of inspiration for others.