Hollywood star Ashley Judd shakes a leg on Sambalpuri folk number
Bhubaneswar: On the first day of her four-day visit, Hollywood actress Ashely Judd, the UNFPA goodwill ambassador visited Kalinga Institute of Social Sciences (KISS) here on Tuesday.
On her arrival, Ashley was given a warm welcome by the inmates of KISS. She was seen tapping her feet to a melodious Sambalpuri folk number with a group of tribal girls.
While interacting with the 25,000 students, she started her speech with adaptive Odia and said, "Mate bhala lagila" (I feel great), "Pila mane ki pari achha?" (How are you, kids?).
"This is absolutely a spiritual experience for me and so glad to be here. Thank you so much for sharing your childhood, your art, your culture and your sweetness with me," she expressed her joy.
She also practised yoga with the students and planted a tree sapling towards a green future.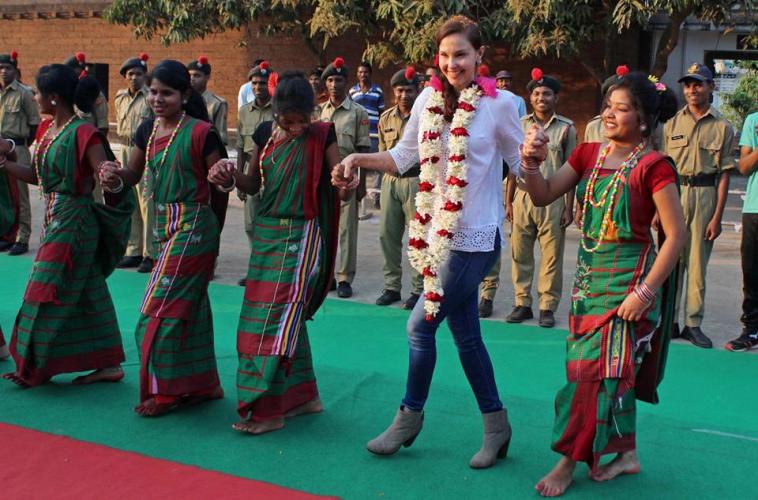 The Hollywood Diva is here to implement the UNFPA programmes aimed at developing and empowering the adolescents in the tribal residential schools across Odisha through a life skills education programme.
Special sessions will also be organised with tribal adolescent girls and boys for Ashley to interact and understand their challenges and aspirations.
During her stay in the state, Judd will be exposed to the rich culture and lifestyle of tribal communities, including their varied art and handicrafts.
"We are conferring the KISS Humanitarian award since 2008. Ashely Judd would also be conferred with the award on February 9 (Thursday) by honourable Governor for her passionate advocacy and commitment towards working against sexual exploitation of girls and women," said Dr Achyut Samant, founder of KIIT and KISS.