Police raid on Hooka bars in Bhubaneswar
Bhubaneswar: The Commissionerate Police on Saturday night raided various Hooka bars being run in hotels and restaurants in Bhubaneswar.
The raid is carried out to stop the consumption of Hooka, nicotine added product harmful to the health.
Acting on a tip-off, police conducted a raid on two hooka bars such as 'Chai Patti' and 'Chai Break' run in Bhabani Mall while Infocity police searched four hooka bars such as-Hookie Dookie, Kanopy, Richards Kitchen and Aadda operated in their police jurisdiction.
During the search, police have seized a large amount of Hooka and its products, worth lakhs of rupees.
Police have also warned the hotel and restaurants owners not to run Hooka in their business establishments. At the same time, police have collected fine from some Hooka bars flouting laws.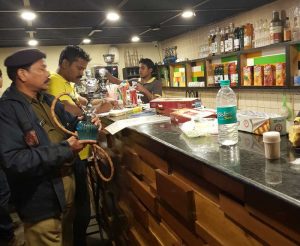 Bhubaneswar Deputy Commissioner of Police (DCP) Satyabrata Bhoi said raids have been conducted on various Hooka bars in Bhubaneswar.
"Hooka and its products have been seized during search operation. Whether the product contains nicotine or not will be examined. If found the harmful substances, stringent action will be taken against the violators," said the DCP
Notably, on November 12 last year, police for the first time had raided on various Hooka bars in Bhubaneswar.