Congress, BJP observe Odisha bandh over Kunduli gang rape case
Bhubaneswar: Normal life came to a standstill at several parts of Odisha as opposition Congress and BJP observed dawn to dusk bandh across the state over the suicide of Kunduli gang rape victim.
Workers of the two parties staged road blockades at various junctions across the state affecting vehicular movement. They also resorted to picketing at several offices across the state.
 While buses remained off the road, the workers of Congress and BJP resorted to railroko at several railway stations including Bhubaneswar, Cuttack, Sambalpur and Bhadrak railway stations in the state. Shops and business establishments remained closed in view of the bandh.
Following the bandh call , the Odisha government had declared to close down schools and colleges in the state. The scheduled examinations have been shifted for another day.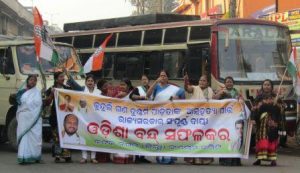 Meanwhile, police have arrested some Congress and BJP workers in Bhubaneswar while they were observing bandh at Master Canteen square and Ram Mandir square.
Meanwhile, Commissionerate Police have made elaborate security arrangements to maintain law and order in the twin cities Bhubaneswar and Cuttack.