Bhubaneswar: The Cabinet chaired by Chief Minister Naveen Patnaik on Thursday approved the tender for state-of-the-art modern Inter State Bus Terminal (ISBT) at Baramunda and bus depot at Khandagiri on engineering procurement construction (EPC) mode.
The Bhubaneswar Development Authority (BDA) is entrusted by the State Government with the development of the project on EPC mode through a transparent bidding process.
Bridge and Roof Company India Ltd has become the preferred bidder through the process and would execute the project with a negotiated offer of Rs 160.66 crore. The Baramunda project will be developed over an area of 15.5 acres.
The completion of the project will be within 24 months from the beginning of the work and maintenance for five years and five years of defect liability period. The same bidder will also develop a bus depot for Odisha State Road Transport Corporation (OSRTC) at Khandagiri for shifting of OSRTC bus depot from Baramunda.
The ISBT Baramunda will have terminal space of 1,31,713 square feet and commercial space of 1,70,912 square feet and bus bays for 35 and idle parking space for 190 buses.
Apart from idle parking space for 190 buses, ISBT Baramunda will also have public parking space for more than 250 four wheelers and about 175 two-wheelers.
Objective of Baramunda Inter State Bus Terminal:
The objective to go for an ISBT at Baramunda include development of a modern terminal at Baramunda with necessary facilities for passengers and buses, to provide more convenient and easy transfer experience to the passengers by integrating various modes of transportation and to explore and generate revenues from non-fare box sources to make the process sustainable.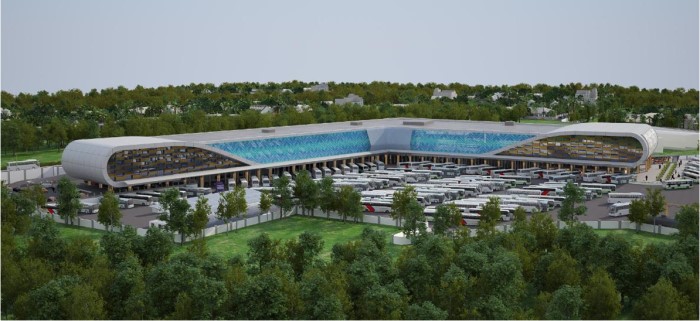 Facilities:
Various facilities available with the project will include uninterrupted power supply, fire detection alarm system, fire fighting system, passemger information display system, passenger announcement system, passenger management system, CCTV system, water treatment system, solar power system, intercom telecom network, air onditioning system, sewage treatment plant, effluent treatment plant for bus wash, elevators and escalators and building management system.
It can be mentioned here that Bridge and Roof Company India Ltd will also get vetted the soil testing investigation and preparation of drawing and design components with IIT.