Sudarsan, Manas create sand Santa Clause on Christmas eve
Puri: On the eve of Christmas, sand artist Sudarsan Pattnaik has created the world's biggest 3D sand Santa Clause at Puri beach in Odisha.
He has created this 3D art in 2500 sq ft area with the message "Go Green" at the Puri beach.
Pattnaik took 10 hours to complete this sculpture and also used some colour sand to make attractive this sculpture. Students of his sand art school assisted him.
"Day by day the temperature of the earth is increasing. We should plant more trees to save our earth from global warming," said Sudarsan.
Sand artist Manas Kumar Sahoo has also created a sand art on the eve of Christmas Day. Through the sand art, he spread awareness on plastic-free India.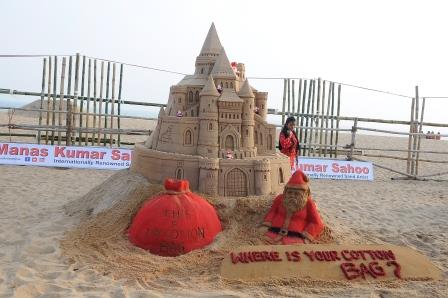 "The artist has made a cartoon for children where he has given the message "We are ready to fight against plastic pollution".
He has made a sculpture of a Church and a Santa Claus in the sand.