Dhamnagar Assembly Constituency on Wednesday witnessed a political twist after ruling Biju Janata Dal (BJD) expelled its former MLA and independent candidate for the by-election Rajendra Das.
Rajendra Das popularly known as Raju Das has filed his nomination papers as an independent candidate for the Dhamnagar by-poll after being denied of BJD ticket.
BJD president and chief minister Naveen Patnaik expelled Das for anti-party activity.
"Rajendra Kumar Das, EX-MLA of Biju Janta Dal, Dhamnagar Assembly Constituency, District- Bhadrak has been expelled from the Party for his anti- party activities by Naveen Patnaik, President, Biju Janata Dal," informed BJD.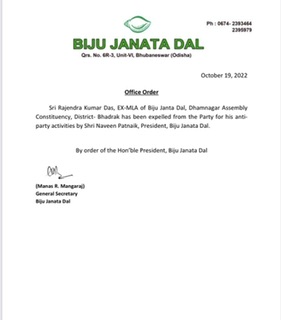 It may be noted that Das is among top three candidates in Dhamnagar by election. The Dhamnagar will go to poll on November 3. The election was necessitated after untimely demise of sitting MLA Bishnu Charan Sethi.