The National testing Agency (NTA) has released the examination calendar for the academic year 2023-24.
According to the calendar, the Joint Entrance Examination [JEE (Main)] – 2023 Session 1 will be held from January 24 to 31, 2023. Joint Entrance Examination [JEE (Main)] – 2023 Session 2 will held on 06, 08, 10, 11, 12 April 2023.
Similarly, the ICAR AIEEA-2023 will held on 26,27,28 and 29 of April 2023 while the National Eligibility cum Entrance test [NEET (UD)]-2023 will be held in May 7, 2023.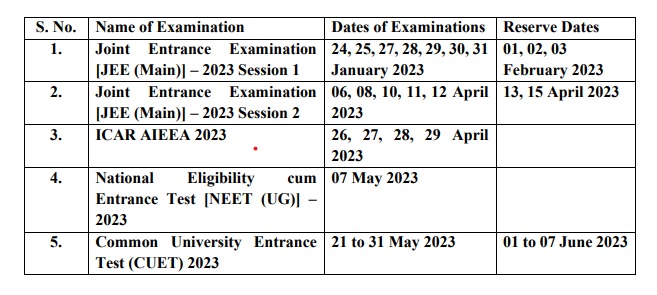 Besides, the NTA will hold the Common University Entrance Test (CUET) 2023 examination from 21 to 31 May 2023.
For further clarification related to the examination dates and other instructions, the candidates are advised to visit the official website of NTA www.nta.ac.in for the latest updates.
It may be noted that Ministry of Education (MoE) has established the National Testing Agency (NTA) as an independent, autonomous, and self-sustained premier testing organization under the Societies Registration Act (1860) for conducting efficient, transparent, and international standardized tests in order to assess the competency of candidates for admission to premier higher education institutions with a mission to improve equity and quality in education by developing and administering research-based valid, reliable, efficient, transparent, fair and international level assessments.