The two days Bharateeya Paramparik Kreeda Mahotsava organized jointly by the Central University of Odisha and Kreeda Bharati began on Friday.
The inaugural session of this programme was held at main Sports Ground of CUO.
The Kreeda Mahotsava was inaugurated by the Union Minister of State for Education, Dr. Subhas Sarkar.
The University organized an event of this scale for the first time. The Chancellor of the Central University of Odisha, Prof. P.V. Krishna Bhatta, graced the occasion as the Guest of Honour. The Vice-Chancellor of the University, Prof. Chakradhar Tripathi, presided over the Programme.
The Programme commenced with the inaugural address by the Vice-Chancellor of Central University of Odisha, where he welcomed the dignitaries and highlighted the importance of "Paramparik Kreeda" while encouraging the students to participate in all kind of sports and yoga. Traditional sports, which are not followed by the new generation nowadays, should always be encouraged, he said.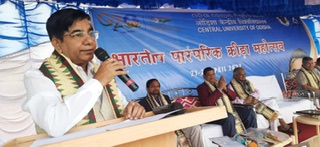 Dr. Subash Sarkar delivered the Chief Guest address chanting with a sloka from Bhagwat Geeta, explaining, "one who attained purity of mind through the prolonged practice of yoga is in such knowledge with the heart in due course of time".
All India General Secretary, Kreeda BharatiRaj Choudhry addressed the gathering by signifying the importance of sports in our culture quoting; "Lord Shri Krishna also played a lot of sports". He also mentioned Saavan ka Jhoola and encouraged the students for sporting events. Also present on the dais was Arjuna Award winner and eminent Olympian Gopal Saini.
On the occasion various traditional games of India were showcased including Yoga, Archery, Kabaddi, Kho-Kho, Malkhamb and Rope Malkhamb (all from Odisha), Gatka, Kalarippayattu, Thang-Ta(Assam), Atya Patya, Gilli Danda and Surya Namaskar. During the second session two sports events were demonstrated, Rope and Pole Malkhamb (Odisha) and Bharatiya Yudha Kaushal (West Bengal).