BHUBANESWAR: Pandemonium prevailed in the house of Odisha assembly as opposition members on Monday continued their demand for the ouster of chit fund inquiry commission head Justice M.M. Das and the resignation of minister Sanjay Das Burma.
The speaker adjourned the house several times due to uproarious scenes by the Congress and BJP members. They also snatched the mike of the speaker and tried to scale the podium. Unable to run the house, the speaker later adjourned the house till Tuesday.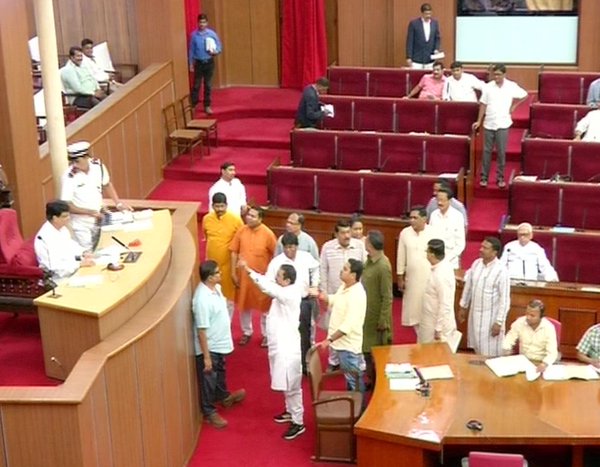 Soon after the House assembled, the opposition members rushed to the well and shouted slogans demanding resignation of minister Sanjay Dasburma for his alleged involvement in the chit fund scam and ouster of Justice MM Das for attending an event of the ruling party and making controversial statement that people became victims of chit fund firms due to their greed.
Congress chief whip Taraprasad Bahinipati said Das and Dasburma should resign from their posts while there should be a discussion in the house on chit fund issue.
The leader of opposition Narasingh Mishra questioned the silence of chief minister Naveen Patnaik over the chit fund issue.
"It seems the chief minister is involved in the chit fund scam. It seems the chit fund commission has made the controversial statement following the advice the chief minister that is why he is silent on the issue," said Mishra.
BJP MLA Radharani Panda said it is unfortunate that chit fund probe panel head is attending an event of ruling party and making controversial remark while the law minister is applauding supporting the statement.
BJD MLA Amar Satapathy said the opposition parties are raising the issue repeatedly to get political mileage.