BHUBANESWAR: Renowned sand artist Sudarsan Pattnaik won a gold medal in people's choice prize at World Championship of Sand Sculpting Russe, 2016, Bulgaria on Friday.
Pattnaik won the prize for his sand sculpture "Drugs kill Sports", said the release.
There were ten sculptures participated in this championship; Sudarsan got the highest vote from visitors.

The sculpture was an awareness sand sculpture to uphold the sanctity, richness of sports, as an ever cherished saga of entertainment source, in high esteem.
The topic of the competition was "Sports World and Olympic Symbols" and the height of the sculpture was 2 meters.
This championship had started from 26th May and continued until 3rd June. Total ten artists had participated from around the world.
"Modern day sports supplemented by advanced technologies have reached a new level of competition throwing new challenges to all stakeholders such as sports personnel, organisers, and regulators. One such unsolicited issue is the usage of performance enhancing drugs by sports personnel. My sand art 'Drugs Kill Sports', is an awareness creating sculpture," said Sudarsan.
"I am glad that my sand art got the gold medal," Sudarsan added.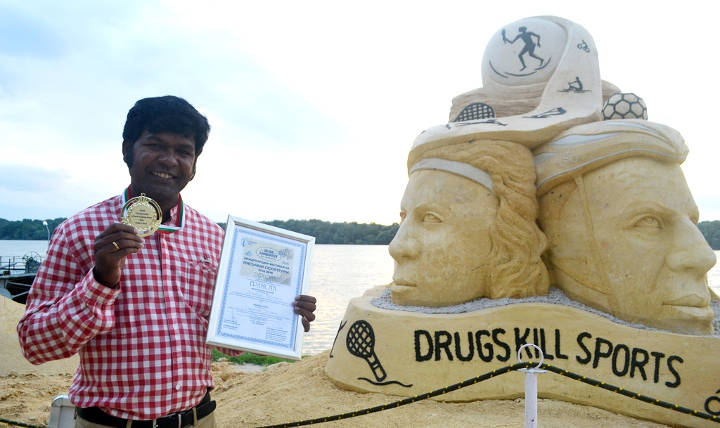 "In my sculpture, I have created the two faces one is of Lance Armstrong and another is Maria Sharapova, the two iconic players who were mired in the drug controversy, thus bringing a bad name to themselves and the entire sports world. Through my sand art, I wanted to convey the message to the entire sports fraternity to uphold the sanctity, richness and inspirational stature of sports. Let the spirit of the game prevail," said Sudarsan.
So far Padma Shri awarded sand artist Sudarsan has participated in more than 50 International sand sculpture championships and festivals around the World and won many prizes for our country. Recently he had won a gold medal in Moscow for creating a sand sculpture on Peace & Nonviolence.