Bhubaneswar: Intensifying its stir against the Polavarm irrigation project in Andhra Pradesh, the ruling Biju Janata Dal (BJD) on Saturday observed 'hartal' in seven southern districts of the state.
The party resorted to 12-hour hartal in Malkangiri, Koraput, Rayagada, Gajapati, Kandhamal, Nabarangpur and Ganjam districts.
During the hartal, the party members gheraoed all Central government offices and resorted road and rail blockade protesting the controversial Polavaram project.
The ruling party is protesting to the ongoing construction of Polavaram project and national status for the project.
"The Polavaram project in its present design would submerge several parts of Malkangiri district. Besides, the neighboring state did not conduct Gram Sabha in the affected areas of the state for the irrigation project," said Surya Narayan Patro, BJD spokesperson.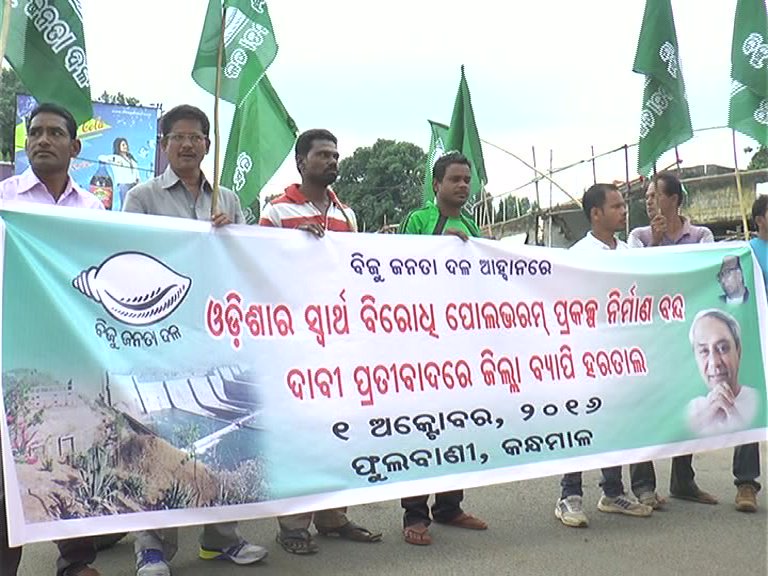 The ruling party and its government are of the view that 6,818 persons, including 5,916 tribals, will be displaced due to the project.
Party leaders also said 25 habitations including 15 revenue villages and 10 hamlets will be submerged and 7,656 hectares will be submerged if the riparian neighbor increases the height of the dam 220 feet from previously planned 150 feet.