Berhampur: A youth from Berhampur, Satyanarayan Maharana, has received national recognition for constructing a sculpture of lord Ganesha using smaller Ganesha idols carved out of pieces of soap.
The specialty of his works is the use of waste and regular household products in making the sculptures.
Satyanarayan, an amateur artist, and miniature sculptor, has scripted his name in the 'India Book of Records' for constructing an image of lord Ganesha.
Satyanarayan had started constructing the image of lord Ganesha on September 5, on the day of Ganesh Puja, reported The Hindu.
He completed the work in five days. The image of Ganesha was made out of 207 soap pieces. Each piece was carved with miniature idols of the deity.
Replica of Chariots
Earlier this year, Satyanarayan had also found a place in the India Book of Records for constructing the smallest scaled models of the three chariots of the famous Rathyatra of Sri Jagannath temple in Puri.
He constructed these three small-scaled replicas of three chariots of Sri Jagannath, Balabhadra and Subhadra during the Rathyatra in July this year.
Like his other works, he used waste products and regular household items for the project. Materials used for the three chariots were scarps of wood, coloured cloth, chalk pieces, soap etc.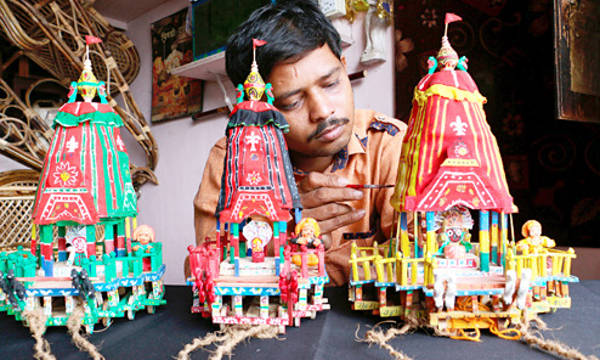 While the height and width of Nandighosh, the chariot of Jagannath, are 13.5 and 9 inch respectively, those of Taladhwaja (chariot of Balabhadra) and Darpadalan (chariot of Subhadra) are 13×7 inch and 12.5×6 inch respectively.
While the wheels are made of cane, the parsa devata and sarathi are made using chalk and soap respectively.
Satyanarayan took up miniature sculpting and sand art as a hobby. He is a graduate. Most of his family members are amateur sculptors.
Earlier, Moharana had carved miniature images of great personalities from chalk, including Mahatma Gandhi, Netaji Subash Chandra Bose, former president Pratibha Patil, former Prime Minister Manmohan Singh and Sonia Gandhi.