Mines secretary lauds Nalco for increasing productivity
Bhubaneswar: Despite the vagaries of the international market, Nalco's consistent performance – both in terms of productivity and profitability is commendable, said Union mines secretary Balvinder Kumar.
He lauded the growth in production and increase in share price, which he said greatly enhanced the stakeholder value.
Kumar was addressing the 37th Foundation Day Celebrations of Nalco here on Saturday.
"Nalco's efforts towards encouraging and promoting art, culture, and sports of the State through various awards are also laudable. I congratulate CMD of the company and his team for this endeavor," said Kumar.
Nalco CMD Tapan Kumar Chand reiterated that the company is committed towards the development of Odisha and is also working in sync with the national development programs.
He highlighted the corporate journey of Nalco since inception and presented the new business model under implementation in Nalco.
"In 2016, Nalco has posted strong growth of 18% in Bauxite mining, the highest since inception and a record in the mining industry. During the financial year 2016-17, Nalco will surpass its production capacity of 68.25 lakh tons and will achieve 73.25 lakh tons production," Chand informed.
Nalco honors achievers
A host of awards presented by Nalco to achievers in different fields added a unique flavor. Nalco Smiles Award was presented to Bhagirathi Panda, Secretary of Institute for Helping the Disabled, for his outstanding contributions towards the rehabilitation of differently-abled persons.
Nalco Kharavela Award for Odissi Guru was received by Prof. Naba Kishore Mishra, for his significant contributions in promoting the dance form in India and abroad.
Nalco Kharavela Awards for significant achievements in Odissi were handed over to Kshyanaprava Parida, Suhag Nalini Das, and Nityananda Das. Nalco Kalidas Award was handed over to Prof. Radhamadhab Dash, Vice-Chancellor of Shri Jagannath Sanskrit Vishwavidlaya, Puri, for his significant contributions in the field of teaching and propagating Sanskrit.
Nalco also honored other achievers of Odisha for their contributions in different fields. Eminent literary personalities Dr. Ramakanta Rath, Dr.  Pratibha Satapathy and Binapani Mohanty received Nalco Literary Award.
Nalco Start-up Award was given away to Srikumar Mishra, MD & CEO of Milk Mantra. Nalco Fine Arts Awards were handed over to BK College of Art & Crafts and sculptor Sudarshan Sahoo. Nalco Sports Awards were received by Chess Player Debasis Das, Athlete Amiya Mallick, and Scuba Diver Sabir Bux.
Nalco signs MoU with Utkal University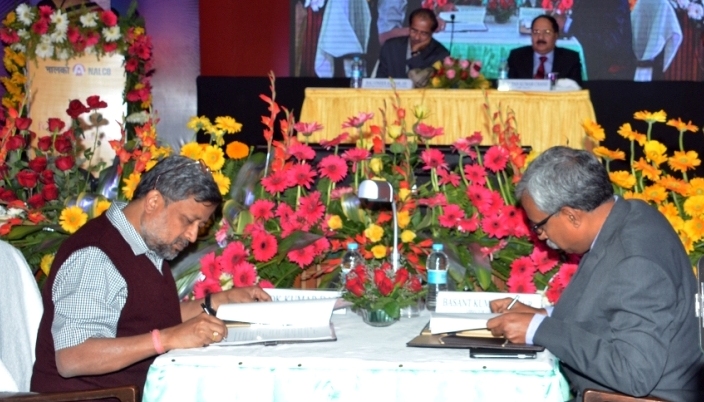 A MoU between Nalco and Utkal University was signed to collaborate on some specific areas- R & D Projects, Baseline and impact Assessment Survey for CSR Projects and Industry Institution Interaction.
Utkal University will be one of the key institutions to extend internship and vocational training to students of Utkal University and extend its support for skill development training programs for underprivileged people of the state of Odisha.