Bhubaneswar: Showcasing the rich culture and heritage of Odisha, the 22nd Asian Athletics Championship, the mega event in the history of the sports of the state, began in a glittering evening at Kalinga Stadium here on Wednesday.
Chief Minister Naveen Patnaik declared the event opened.
Patnaik said that state has proved its efficiency and preparedness by completing this sort of infrastructure of international standard within a record period of 90 days.
He said this is a historic moment through which Odisha will be known throughout the world, starting from its glorious maritime heritage to present day development.
In the synchronised march past, all the players from 45 countries of Asia participated with National Flags of their countries. On behalf of Team India, sprinter Shrabani Nanda read out Oath for the players.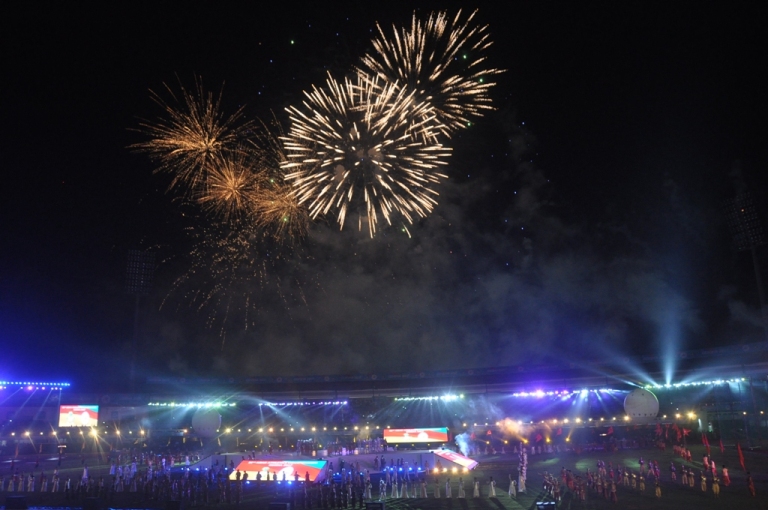 Reverberated with claps and fireworks, Kalinga Stadium, the venue of the event was packed with thousands of spectators while everybody enjoyed the Balloon Show. Finally followed colourful cultural programmes presented celebrated artists. The journey of Odisha – right from the Kalinga war during the reign of Emperor Ashoka, to the spread of Buddhism in the region and its subsequent modernity, was told through various dance forms.
The narrative followed Odisha's landmark history; right from its ancient temples to its pristine coastline, from its mighty rulers to their penance, from its beautiful simplicity to its fierce ambitions, all aspects were displayed through dance and art forms, some of them intrinsic to the region.
Choreographed by famed Odissi dancer Padmashree Dr. Aruna Mohanty and Ratikant Mohapatra, two different presentations enthralled the audience. Prince dance group also presented another significant programme "Surya Upasana".
Artist Groups from foreign countries also presented an item titled "Ten Thousand Hands of Budha". Short films on Odisha's Journey towards growth and development such as new opportunities, skilled in Odisha etc. were also shown to provide update information on State's Development Scenario.
Celebrated Singer and Music Director Shankar Mahadevan headlined the celebrations. He started with famous Odia song "Ranga Bati".
Inviting the original singers Padmashree Jitendriya Haripal and Krishna Patel along with the Composer and Lyricist to the dais, Mahadevan took their blessings for his rendition. He also mesmerised the audience through his all-time hits "Breathless" and "Koi Kahe Kehata Rahe Kisme Kitna Hai Dum".