Bhubaneswar: It was a star-studded affair at Ramadevi Women's University, which celebrated the third annual day of the drama society on Monday.
Oriya movie industry's known stars Sabyasachi Mishra, Buddhaditya Mohanty, Barsha Priyadarshini and singer Dipti Rekha Padhi graced the occasion at Ramadevi Women's University.
The Ollywood stars shared their experiences with the students on how to be successful in their life.
Barsha advised them to quickly comprehend the wrong meted out to them in their life and must be bold enough in difficult times.
The Ollywood actress said sometimes failure will try to break you down but you have to move forward in life.
Sabyasachi Mishra said there is intrinsically no difference between a girl and a boy as a girl can achieve anything.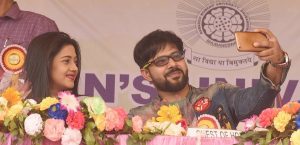 He advised the students to be responsible citizens of the country and serve for the betterment of the society.
Buddhaditya said his mother used to teach at the university and it was his privilege to be a guest on the same varsity.
He said it hurt him when people lamented for failure to achieve something without making effort.