CM launches Odyssey City Card for citizen services in Bhubaneswar
Bhubaneswar: Odisha Chief Minister Naveen Patnaik on Friday launched a Common City Payment Card System "Odyssey City Card" for Bhubaneswar.
As a joint initiative of Bhubaneswar Municipal Corporation, Bhubaneswar Smart City Limited and ICICI Bank, the card will facilitate payment transactions for citizen services across the city.
'Odyssey' City Card, this pre-paid multi-purpose card is a first-of-its-kind offering in the city that has been designed to enable residents to make quick and easy payments for an array of services like property tax, water bills, and vehicle parking fees and trade license fee for traders and businesses among others, in a seamless manner.
The card can also be used for making payments at retail merchant outlets enabled with point of sale (POS) machines across the country, as well as on e-commerce websites.
The Chief Minister also launched My Odyssey Centres that will facilitate payment services for citizens.
A total of 325 Odyssey Centres will be opened out of which 25 was opened in the first phase.
Speaking on the occasion, at a launching ceremony organised at Secretariat, the Chief Minister said that this card system reflects the journey of the heritage city of Bhubaneswar into a modern urban centre and endeavour of government to transform it into a Smart City through technology.
The Chief Minister further said that this initiative would help in positioning Bhubaneswar as a premier Sports City during the upcoming Men's Hockey World Cup.
The first Odyssey City Card was presented to the Chief Minister at the function. The meeting was attended by MLAs Bijoy Mohanty, Priyadarshi Mishra, BMC Mayor Anant Narayan Jena, Development Commissioner, Executive Director of the ICICI Bank and senior officers of the government and BMC.
Anup Bagchi, Executive Director, ICICI Bank said, "ICICI Bank has always been at the forefront of introducing path-breaking digital solutions which aim to offer simplicity and convenience to our customers. We are delighted to associate with Bhubaneswar Municipal Corporation and Bhubaneswar Smart City Limited to bring forth the 'Odyssey City Card'.
"This new proposition aims at offering unparalleled convenience to nearly 1 million residents of Bhubaneswar and is a significant step towards transforming it into a Smart City. This is a testament to our constant efforts at creating a less cash ecosystem across the country, thereby encouraging our customers to adopt to digital modes of making payments. We look forward to more such collaborations with the Odisha Government to co-create solutions that offer flexibility and convenience to our valued customers," he added.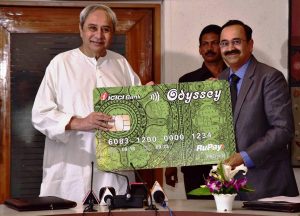 With the 'Odyssey' City card, residents will be able to undertake the following activities:
Retail and e-commerce transactions: Purchase goods from retail stores, pay for movie tickets, dine, shop and e-commerce websites across the country.
Utility bills: Make payments towards BMC for water bills, property tax and trade license fees etc.
Parking fee: Make fee payments at Pay and Park locations managed by the BMC
City-based transport: Users will soon be able to make cashless payments for bus rides across all transit networks under the Central Region Urban Transport Services (CRUT)
Honourable Chief Minister launched 25 My `Odyssey' Centres
The card is currently available across the counter at 25 locations that have been set up by the BMC along with Bhubaneswar Development Authority (BDA) and the Public Health Engineer Organisation (PHEO) at an issuance fee of Rs. 50 and is valid for 5 years. The card does not levy any annual or renewal charge.
Users can recharge their card by either paying cash at the designated counters or digitally through the online customer portal. Shortly, ICICI Bank along with BMC will set up a distribution network of 300 additional counters across the city for facilitating the issuance and recharge of the Odyssey cards.
All the card users will be converted to full KYC customers within one year of issuance of the card which will further allow users to have a higher limit up-to Rs. 1 lakh per month. Currently, users can recharge their card up to Rs. 10,000 per month.
In order to apply for or recharge the 'Odyssey' City Card online, customers can click on the following link: https://smartcity.icicibank.com/customer/customerportal?pagename=Odyssey
To know more about the 'Odyssey' City card, customers can click on the following link: https://www.icicibank.com/Personal-Banking/cards/prepaid/Odyssey-card/index.page