Bhubaneswar: Odisha Chief Minister Naveen Patnaik on Tuesday inaugurated the unique and creative Bhubaneswar Open Air Museum of Waste-to-Art in K7 at Kalinga Vihar here.
Around twenty-two artists from 16 nations have created 24 wonderful sculptures from waste to showcase their creative best near K7 area of Kalinga Vihar in the city.
Inaugurating the event the event, the Chief Minister said, "Bhubaneswar Open Air Museum of Waste-to-Art is a very good initiative. I congratulate the organisers for this effort to make the international art symposium successful. All the sculptures are strikingly beautiful.''
The open-air museum of waste-to-art is a joint initiative by Anpic and BDA. The venue will now be open for public from 10 am to 4 pm every day.
"As per the plan, there will be proper development including parking space, pathways, greenery and other landscaping work at the site to give the sculptures a unique ambience in near future. The entire area could also be developed into a full-fledged open-air museum by BDA,'' said BDA Member Enforcement and senior officer-in-charge for the Bhubaneswar Open Air Museum of Waste-to-Art project, Bhabani Shankar Chayani.
The artists started their work from November 1 from nearly 50 tonnes of wastes, mainly metals and plastics collected from different parts of the twin cities of Cuttack and Bhubaneswar including the industrial estates and made this beautiful show at K7 area.
Though the creation of plants and animals dominate the creations, elephants, lions, peacock, tiger and many more creations at the show have dominated the area.
"We have spent a lot of time collecting and getting the right types of wastes to create the art objects. However, we will keep them as they are will not paint them with any other colour as we want that people should see the wastes getting shapes with their normal vision and know what type of transformation could happen to wastes,'' said City-based artist and curator Kanta Kishore Maharana.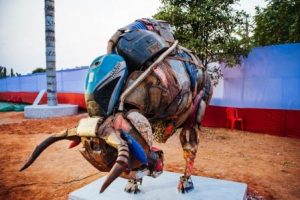 However, it was learnt that after the inauguration there would be an application of simple chemical coating over the art objects so that the coat will resist rusting, but would keep the natural colours of the waste, intact.
Khitish Das, another curator of the project was of the opinion that more and more sculptures would be added in future so that when the public will come and visit the open-air museum they would get to see a variety of art objects.
On an inaugural day, there was a huge footfall of more than 3,000 people at the Open Air Museum of Waste-to-Art in K7 area and the people enjoyed their time by taking selfies near the sculptures.
The artworks mainly represent animals, birds, plants, conservation, Olive Ridley, wildlife, and philosophies of life. Many foreign artists have also created works with influences from Indian themes.
Daniel Rerez Sarez from Canary Islands, Spain created a beautiful face of Buddha.
"I came to know later about the influence of Buddhism and how the ancient Kalinga was instrumental in spreading the philosophy across the globe. As I found the faces of Buddha in many monuments I have visited here, I created this sculpture," he said
Sandile Radebe from Johannesburg South Africa has created a sculpture with a meaning of infinite possibilities.
"I have created triangles first, then pyramids and keeping pyramids over one another made this structure. It also explains that like my art one can have endless opportunities to use the waste in their lives," he added.
Noah Rose from Manchester, England has created a nice sculpture of "Goborapoka'' or dung beetle from a broken autorickshaw.
"I have seen that like a dung beetle or "Goborapoka'' an autorickshaw serves the society with a grass-roots level work and all types of people travel in it. My work is a tribute to not only an autorickshaw but for all workers who toil hard like dung beetles and work for their society," Rose explained.
Among others, Bhubaneswar MP Dr. Prasanna Patsani, Tourism Minister Ashok Chandra Panda, Vice-Chairman Bhubaneswar Development Authority (BDA) Dr. Krishan Kumar, Secretary BDA Manoj Kumar Mohanty, Member Enforcement BDA Bhabani Shankar Chayani and senior officials, Managing Trustee of Artists Network Promoting Indian Culture (Anpic) Sashanka Mohapatra and Professor Rajendra Patil from JJ Scholl of Art, Mumbai, were present.