Bhubaneswar: People have started thronging various Durga Puja pandals across Odisha as the six-day Dusshera festivities began with the invocation of clay idols of Goddess Durga.
A total of 170 puja pandals have been put up in Odisha this time.
Huge pandals have been erected in twin cities Bhubaneswar and Cuttack for the celebration of Durga Puja. Like every year, the pandals are decorated with colourful lights, welcome arches while cultural programmes have been lined up everyday during the evening hours to attract the revellers.
Most Puja pandals in Bhubaneswar are huge facades which are generally replicas of famous architectural and engineering marvels.
Pandals at Rasulgarh, Jharpada, Old Station Bazaar, Shahid Nagar, Nayapalli and Baramunda are the star attractions in Bhubaneswar.
The Old Station Bazar Puja committee has showcased the evolution of human civilisation, from the pre-historic to the modern era, in the mandap.
The Nayapalli Durga Puja Samiti is erecting a replica of the Padmavat Palace in Rajasthan while the Jharpada Durga puja committee has come up with a Disneyland theme.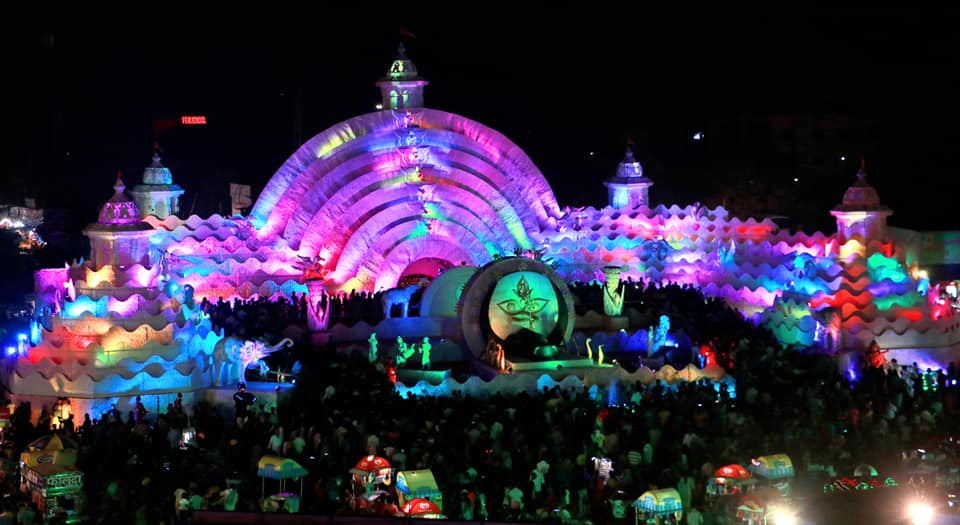 The Saheed Nagar puja committee has created a replica of the Chhota Imambara in Lucknow while the Rasulgarh Durga puja pandal adorned a floral look this year. The pandal, designed as 'Indrapuri', has been decorated in white and pink fabric flowers procured from West Bengal and about 2,000 lights.
In Cuttack, at least 170 Mandaps have come up.
Maintaining Cuttack's age-old tradition of giving sparkling white backdrops to the deities with silver tableaus, as many as 27 mandaps have sported silver tableaus as the city decorated the Mother Goddess with gold and silver.
Meanwhile, the Commissionerate Police has beefed up the security in the twin cities and regulated the traffic for commuters.
The Commissionerate Police has deployed 30 platoons of force at several areas in Bhubaneswar to ensure incident-free celebration of the festival at all the 170 pandals. It has also identified 5 places for Ravan Podi Utsav.