Utkal University celebrates Platinum Jubilee
Bhubaneswar: Utkal University celebrated the inaugural event of its Platinum Jubilee ceremony on Saturday.
Attending the inauguration ceremony of the five-day platinum celebration of Utkal University, Chief Minister Naveen Patnaik called upon the students to contribute for the growth of Odisha and be a part of this unprecedented development process.
"The youth are the real potential of a nation. Their education, knowledge, creativity, innovation abilities and an undaunted spirit to conquer the world will decide the future of the nation," said Patnaik.
He said teachers and students are the principal players in an institution like this.
"Teaching, learning is an ongoing and evolving process. Management, infrastructure, learning resources, and even curriculum are facilitating factors. The outcome of this entire exercise is quality human resource," he said.
He also informed that Rs 100 crore has been sanctioned to Utkal University for opening six Centres of Excellence.
The University has already received Rs 40 crore in the current academic year, he added.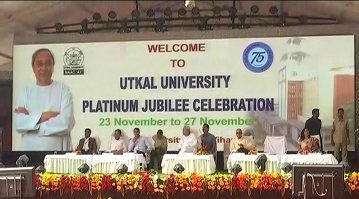 The ceremony was also attended by Minister of Higher Education Dr. Arun Kumar Sahoo, Odisha Skill Development Authority chairman Subroto Bagchi, MPs Dr. Achyuta Samanta, Sarsmista Sethi, Bhubaneswar MLA (North) Sushant Rout and other dignitaries.
Vice-Chancellor Prof. Soumendra Mohan Patnaik, Registrar Dayanidhi Nayak, and P.G Council chairman Prof Sabita Acharya also graced the occasion.
Higher Education Minister Arun Sahoo spoke on the pivotal role of the alumni of the university towards all-round growth and development.
He also congratulated all members of the University for their contribution towards making Utkal University Platinum Jubilee event possible in a very short duration.
Subroto Bagchi said that a university's excellence lies with the potential teachers and their enthusiastic students.
Vice-Chancellor SM Patnaik gave a very comprehensive view of the university apprising of the areas in which the university has achieved great success and highlighted the opening of new paths of cutting edge research at present.