Hefty fines for violation of traffic rules in Odisha from today
Bhubaneswar: Even as the Odisha government has allowed a three-month extension to vehicle owners to update required documents ready, it has decided to implement traffic rules strictly from Sunday.
There will be no leniency on the violators of traffic norms. The traffic rule violations will attract hefty fines under the provisions of the amended Motor Vehicles Act.
The State Transport Authority has directed all Collectors, SPs and Deputy Commissioners of Police to strictly enforce the road safety regulations in the state.
The authority has asked to check documents only of traffic offenders.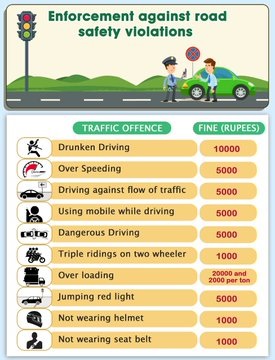 The traffic violations which will attract penalties include driving at a speed exceeding the specified limit, red light jumping, drunken driving, driving against flow of traffic, using mobile phone while driving, dangerous driving, triple riding on two-wheeler, not wearing helmet, not wearing seat belt and overloading.
Cuttack-Bhubaneswar Police Commissioner Sudhanshu Sarangi said fine will be imposed on the traffic norms violators under the new Act.
He informed that CCTV cameras have been installed at every location to keep track on violators and e-challans will be issued against the registration numbers.