Puri: As United States President Donald Trump embarks on his first official state visit to India, renowned sand artists Sudarsan Pattnaik and Manas Kumar Sahoo have created sand arts at Odisha's Puri beach welcoming the US President.
Donald Trump and First Lady Melania Trump are scheduled to visit Ahmedabad on February 24 where Prime Minister Narendra Modi will be present to greet them.
World-renowned sand artist Sudarsan Pattnaik has created a sand sculpture of USA president Donald Trump and first lady Melania Trump to welcome them to India with the symbol of Love Taj Mahal at Puri beach.
Pattnaik created a 6ft high 10ft long sand sculpture where he depicted Taj Mahal and President Trump with first lady by using about 4 tons of sand.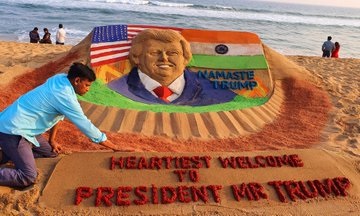 Sand artist Manas Kumar Sahoo also created a sand art on the Golden Sea Beach. The eye-catching sand art has "Namaste Trump" written signifying the welcoming event to be held in the Motera Stadium of Ahmedabad, Gujarat.
The sculpture also contains a brightly smiling face of Trump with flags of both the countries in the background with the message: 'Heartiest Welcome President to Mr Trump'.