Bhubaneswar: Chief Minister Naveen Patnaik on Tuesday launched Odisha scholarship portal www.scholarship.odisha.gov.in that will benefit over 11 lakh students in the state.
The students can apply for various scholarships through the single website.
Speaking on the occasion, the Chief Minister said a number of departments are running more than 20 scholarships.
The Odisha scholarship portal would be successful in bridging the gap between the scholarship providers and the scholarship seekers, he said.
"Provision of scholarship is one of the flagship schemes of State Government towards promotion of educational attainment among students from disadvantaged sections of society," Patnaik said.
The ST, SC, OBC, and SEBC students of the state will be the first beneficiaries of this portal.
The portal will promote transparency, simplify procedures and further streamline public service delivery besides serving as digital single windows for the beneficiaries.
The unified Odisha State Scholarship Portal brings 21 scholarship schemes of six major departments of Odisha Government to a single platform. It will help 7.5 lakh beneficiaries to avail scholarship benefits in a seamless and transparent manner.
Six major departments of the state-ST & SC Development, Higher Education, School & Mass Education, Labour & ESI, Skill Development & Technical Education and Agriculture-have on boarded their scholarship schemes onto this common platform to provide one stop solution to eligible students to make an informed choice from amongst various scholarship schemes and avail the benefit in a seamless and transparent manner.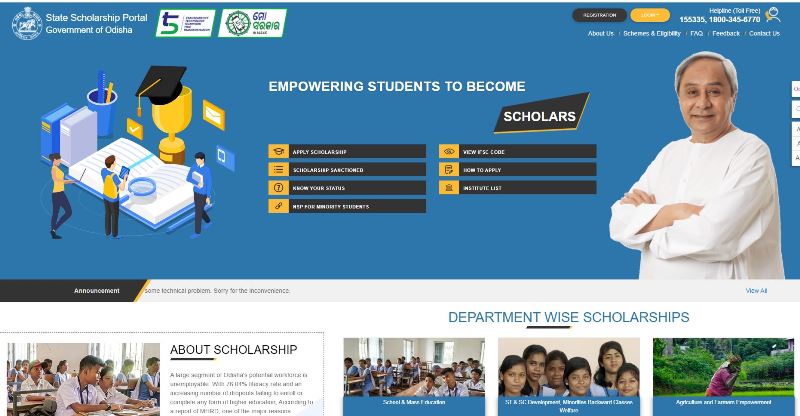 Agriculture & F.E Department – Kalia Scholarship.
Higher Education Department – Gopabandhu Bruti, Senior Merit and Technical and Professional and PG merit e-Medhabruti, Fakirmohana Vasa Bruti.
Labour & ESI Department – Children of Building.
School & Mass Education Department – Junior Merit, Primary Merit (Class – 3 to 4), Primary Poverty cum Merit Poverty (Class 3 to 4), Upper Primary (Class 5 to 6), NRTS Scholarship (9 to 10), Upper Primary Poverty cum Merit Scholarship (Class 5 to 6), Pathani Samanta Mathematics – 1 (Class – 6 to 8), Pathani Samanta Mathematics – 2 (Class – 9 to 10), Pathani Samanta Mathematics – 3 (Class – 11 to 12).
Skill Development & Technical Education Department – Merit-cum-Poverty Stipend, Sudakshya for Girls Child, Merit Scholarship, BOC Scholarship, Banishree – A Scheme of Scholarship for Students with Disability.
ST&SC and MBC Welfare Department – Post Matric Scholarship, Pre Matric Scholarship.
Procedures to apply for Odisha scholarship schemes online:
Click Registration link at the portal, if you are a new user. Existing user can click on the login button.
Enter the Aadhaar number and proceed further.
Check your registered mobile or email to get the user ID and password.
Click the login link at the portal and enter User ID and password to apply for the scholarship.
Provide all necessary details like student, academic, eligibility and bank information.
Click on the "Save as draft" button to draft the information or click on "Next" button to save and proceed the scholarship form.
The preview of the completed form will appear on the page. Download the forms and take its print out.
Key Documents Required:
1. Aadhaar Number
2. Applicant's Photograph
3. Income Certificate
4. Caste certificate
5. Special category certificate
6. Resident certificate
8. Front page of Passbook for bank account details of the student
9. Matriculation Certificate (Except in case of Non-matriculate ITI courses)
10. Previous Examination Certificate