Bhojpuri cinema superstar Khesari Lal Yadav and actress Namrita Malla's much-awaited song 'Do Ghoont' has been released today. His fans were eagerly waiting for this song.

Earlier it was being said that this is the Bhojpuri version of TV actress Nia Sharma's song 'Do Ghunt', but this song sounds completely different from Nia's song.

The romantic chemistry of Khesali Lal Yadav and Namrita has been seen in the song. Khesari is seen in the role of a police officer in the song, whose name plate has Dabangg written on it. At the same time, Namrita has spread the magic of her bold acts in the song. Khesari Lal and Shilpi Raj have sung this song. The lyrics of this song are written by Ajit Mandal, while the music composed is by Shubham Raj.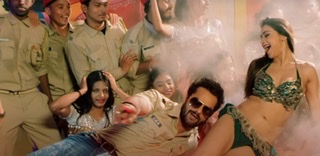 The song is directed by Bibhanshu Tiwari and choreographed by Lucky Vishwakarma.
Khesari Lal Yadav remains in the headlines for his controversial statements. Recently, Khesari Lal Yadav had made a comment about Bhojpuri actor Pawan Singh, on which there was a lot of controversy.