Bollywood actress Parineeti Chopra needs no identity. The actress has made her own identity with her fabulous acting skills.

Parineeti keeps entertaining her fans through social media.

Recently, the actress had an 'Ask Me Anything' session on her Instagram handle, during which she answered many questions raised by her fans.

In this session, the actress spoke openly about her cousin Priyanka Chopra. She is very active on social media, she often shares her beautiful pictures and videos.

Talking about Priyanka Chopra, Parineeti said, "She is the star of the world. She is a real elder sister to me. I am the elder among my real siblings, so she is my elder sister. Talking about Karan Johar, the actress said, "Bhala karega Johar, dhoondgega mera shohar".

Karan and Parineeti are judging 'Hunarbaaz' these days. He often tries to pair up with contestants for Parineeti.

A user asked Parineeti to say something about Arjun, in response to which the actress wrote, "Some lines will be too much." The actress said about Arjun that your voice is not worth listening to. It will be good that when you speak and it will be good that I delete your number only.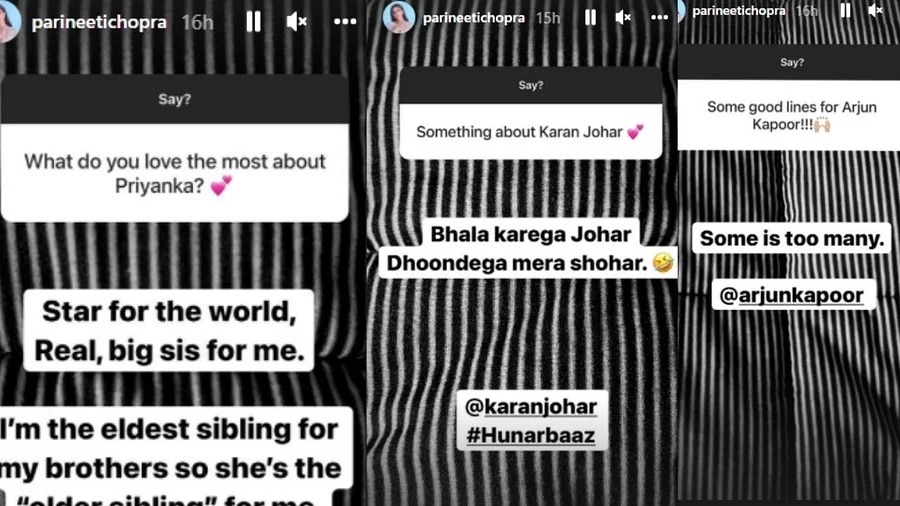 Parineeti and Arjun started their career with 'Ishaqzaade'. Both often pull each other's legs on social media.
These days, the actress is judging the show Hanurbaaz.