Akhil Kumar Mishra
''Women are all we know of Paradise in this earth"-Albert Camus
Introduction:
The above words are from one of the greatest Literary Philosophers and existentialists of our times about how society should perceive Women. Let us imagine a world of Gender Equality- a world free from stereotypes, without bias and without gender inequality where difference is respected and accepted. Attaining the goal of generations to have equal freedom for women and providing a just life to them is not a new vision. But it is still an ambitious goal because in all corners of the world till now voices arise for gender equality. Studies show seventy per cent of the 1.3 billion people living in conditions of poverty are women. In urban areas 40 percent of the poorest households are headed by women. Women predominate in the world's food production (50-80 per cent), but they own only less than 10 percent of the land.80 percent of the displaced by climate related disasters and changes around the world are women and girls.
Recent Changes:
The recent Pandemic has opened many questions about the gender status in our societies. During the pandemic, distressed calls to Citizen/women centric service helplines increased many times. In addition, reports of domestic violence came flooding. The effects of Pandemic got reflected in reduction of employment in traditional sectors for women. This period also witnessed a general sense of despair and hopelessness among women due to the breakage in the institutional arrangements. Not only Pandemic, climatic changes are too leading to more gender-based violence, increase in child marriages and worsening of sexual and reproductive health. Women as citizens have to put forward extra efforts to secure the rights guaranteed under different constitutions around the globe. Structural and Social differences based upon age, ethnicity, race, religion, country, topography and justice system affect women more. The recent conflict between Russia and Ukraine over the NATO expansion issue is a case in point.Ultimtely, at the end of the day, it is the women who suffers in a war because her home, her family members and her own life gets into danger.
Celebrations of Women's Week:
International Women's Day falls on March 8th. The week pertaining to this is called the ''Women's week" to allow the champions of gender justice to elaborately focus on different aspects of gender justice. It is a week of celebrations, education and awareness surrounding women's and gender issues. There are five major aims of this annual event.
*Establishing Relationships and Friendships
*Self-knowledge about Intra-Gender issues
*Debates on Sexual assault & Interpersonal violence
*Healthy Self-Image
*Leadership Development
The week is an opportunity for men and women to reaffirm their commitments to gender causes by donating time, skill, becoming gender advocates and speaking on behalf of women. The International women's day is a powerful movement recognised by the United Nations and also accepted by the Governments in countries. Organisations, people and Government bodies make tremendous endeavours on this day to develop dialogues, generate social resources and appeal humanity to look forward a better world of cooperation and cohabitation.
Women & Change:
Changing social, normative, physical and other climates affect everyone and more so the women folk who constitute half of humanity. Women and girls in world's poorest and those in vulnerable situations bear the negatives of environmental, economic and social shocks. But surprisingly the same women and girls are also early adopters of new agricultural techniques, first responders when disaster strikes and important decision-makers at home about energy and waste.
Women are drivers of solutions to existential crisis. Women when empowered have demonstrated community driven solutions and improved quality of life. Women are multi tasking, better negotiators of life and understand the chao of life situations. As a result, they, when required make demonstrative plans for attaining sustainability in family and human growth. They are not only catalysts of change but also they have the capacity to prevent bad changes.
A changing World
If we want to go for better changes in life, we must bring changes the way we have understood women in terms of their capability and potentiality. Earth does not differentiate between men and women. It is a social construction of a fractured reality which denies women their rightful place in society. Many of the problems like poverty, war, disparity,climatic harshness and rich-poor divide etc can be attributed to the unequal treatment of women in terms of ignoring their wisdom and experience. Because when men folk are taking decisions without making women partners, they are depriving the humankind from collective insights and collaborative efforts. Governments all over world and in India have done tremendous works to ensure gender justices. In our country, examples of Women empowerment have been reflected in Panchayati Raj system,large scale educational and employment opportunities, women watch bodies, emphathetic legal and parliamentary system, women cells, Independent Ministries, Commissions. The availability of Dialogue and Remedial l mechanisms have proved to be vital for women empowerment. Therefore, it is essential to keep in mind that we must strive for attaining the following six action points for modifying human life and making a better world to live in.
1- Provisioning of Economic Justice And Citizen Rights to Women of all age groups.
2-Stopping Gender-based violence,both Domestic and Public.
3-Absolute freedom in Sexual and Reproductive Health
4-Organisational Actions on Social and Climate Justice
5-Access and Encouragement to Technology and Science
6-Considering Women as Natural Leaders
A practical aspect to Gender justice recognises women as peace builders, front-line humanitarian workers and defenders of human dignity. When women are included in any project or event, it becomes inclusive, participative and ownership oriented.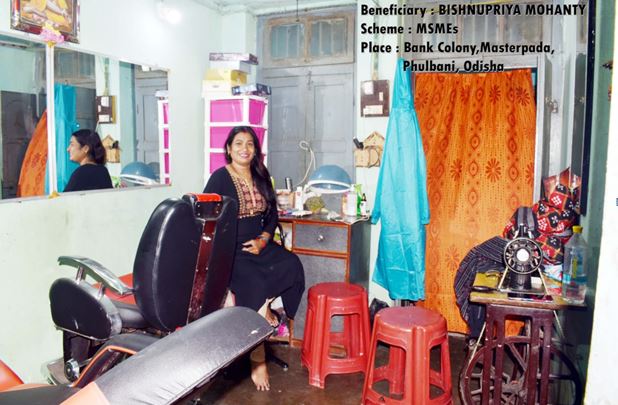 *Each time a woman stand up for herself, without knowing it possibly, without claiming it, she stands up for all WOMEN."
———Maya Angelou
(The writer is a Bilingual poet and belongs to Indian Information Service. He is serving as Additional Director General, Regional Outreach Bureau, Ministry of Information & Broadcasting, Bhubaneswar, Odisha.)