Seva Prayas Foundation organized 5th women's car rally
Bhubaneswar: Seva Prayas Foundation organized a women's car rally and felicitated eight women with Kalinga Virangana Award on Sunday to celebrate International Women's Day.
The award was presented to Sum Covid Hospital nursing in-charge Kamalini Mallick, Sandhyarani Mallick and Rina Sahu (both for social service), Minati Singha (journalism), Hiranmayee Mishra (literature), Sashmita Sahani (public life), Jhilmil Sahu (education) and Jagruti Rath (acting) by Dr. Sanghamitra Pati, Director of the Regional Medical Research Centre (ICMR) in Bhubaneswar.
The event, held at the Wonder World Water Park near Puri, was also graced by Olympian Anuradha Biswal and dancer Saswat Joshi.
Earlier in the morning, a women's car rally organised by the same organization was flagged off at Phulnakhara on the outskirts of Bhubaneswar by Amar Patnaik, MP, former Olympian Anuradha Biswal, former MLA Siddharth Sekhar Singh and founder of Seva Prayas Foundation Lincoln Subudhi.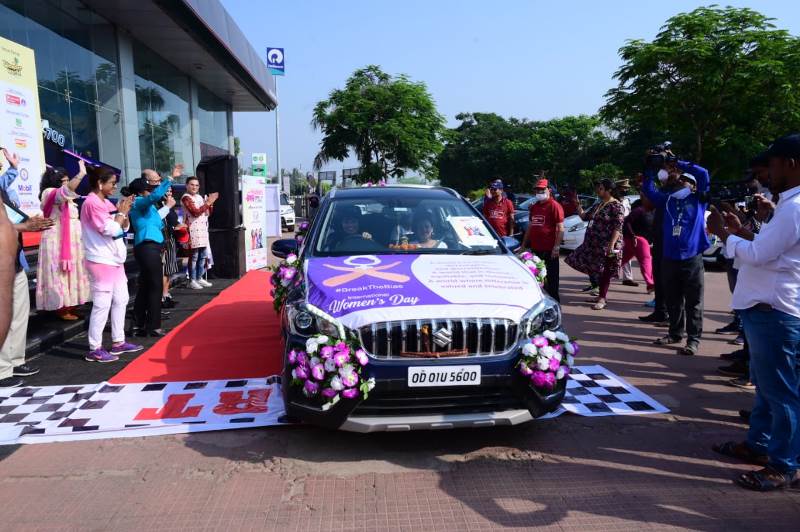 Around 50 women participated in the 80 km rally which ended at the Wonder World Water Park near Puri. Col. Sonali Rath won the rally while Santoshi Sahu and Archana Patnaik became the first and second runner up. Shraddha Mohapatra and Mita Mana were presented consolation prizes.
The jury for the competition included Siddharth Sekhar Singh, Rotarian Jayashree Mohanty, Sini Mohanty and Ranjan Jaiswal. Advisor of the Kalinga Virangana Award Committee, Pritichhanda Dhal and Advisor of Seva Prayas Foundation Ahalya Subudhi, were also present.