BHUBANESWAR: AMRI Hospitals, Bhubaneswar, on Saturday launched the AMRI-ASIAN Cancer Institute in collaboration with Asian Cancer Institute (ACI)  of Mumbai in a bid to offer world class cancer treatment to the people of Odisha and East India.
Under this collaborative initiative, AMRI Hospitals and Asian Cancer Institute (ACI) is all set to provide a holistic oncology care to the cancer patients getting treated at AMRI, Bhubaneswar by  conforming to the high standards of protocol and treatment  that is offered at  ACI, Mumbai.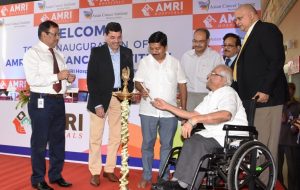 Inaugurating the cancer care institute, Health minister Atanu Sabyasachi Nayak said, "The current cancer patient population in India is around 45 lakhs, to which, around 11 lakhs of new cancer patients are added every year. While men in India get afflicted commonly with cancer of head and neck, lungs and prostate, women suffer from Breast, Cervix and Ovarian Cancers more frequently. From Odisha, many patients travel in search of better treatment to other states.  The AMRI-ASIAN Cancer Institute in Bhubaneswar is poised to fulfil the needs of the people to provide a Cancer free life."
Dr Suresh H Advani, MD, Medical Oncology, ACI, said, "We are bringing home the top of the line treatment facility to the people of Odisha and Eastern Indian."
In its initiative of extending its expertise in comprehensive cancer care across the country, Asian Cancer Institute (ACI) is supported by the local cancer specialists whose expertise is reinforced by continuing professional supervision and help from the Mumbai Centre either in person or through the internet consults. The specialised quality services at all the centres are offered at an affordable cost.
 "The collaboration between AMRI Bhubaneswar and ACI is going to open a new horizon of cancer treatment not only for the people of Odisha but will cater to the entire eastern part of the country. Patients from these regions would no more be required to travel as far as to Mumbai/Hyderabad/Nagpur or Kolkata to avail cancer treatment of global standards from institutions like ACI. AMRI Hospitals has brought excellence in Cancer Care to the Odisha Homes." Said, Rupak Barua, Group CEO, AMRI Hospitals Ltd.
Dr. Ramakant Deshpande, Onco- surgeon (Thoracic & Breast Cancer), ACI added, "This is the continuing endeavor of the Asian Cancer Institute to regenerate hope by offering affordable excellence in cancer care to people of Orissa in specific and Eastern India in general."
Health secretary Arti Ahuja said, "This venture will augment the governments effort to provide quality Cancer treatment to the people of Odisha."
Speaking on the occasion Dr. Salil Kumar Mohanty, VP, Unit Head, AMRI Hospitals, Bhubaneswar said "It is a historic event for AMRI Hospitals Bhubaneswar. Association of Asian Cancer Institute Mumbai, which provides world class treatment for cancer patients, will be available to the people of Odisha now. This initiative by AMRI Group of Hospital will add new dimension to the patient care. Moreover, through this collaboration, medical students of Odisha will also be benefitted through their exposure to the best interventions in cancer care  Further, the collaboration will be much more cost effect in view of reduction in outstation travel & stay cost.."
AMRI Hospitals, Bhubaneswar, a Super Speciality tertiary care hospital is a part of the AMRI Hospitals Ltd, which is one of the largest and fastest growing chain of private hospitals in Eastern India.