Miscreants Loot Bank In Filmy Style In Bhubaneswar, Police Clueless
Bhubaneswar: What could be a challenge to the commissionerate police, some unidentified armed miscreants barged into the main branch of UCO bank in Bhubaneswar and escaped with Rs 13 lakh cash along with nearly 70 packets of gold ornaments in the broad daylight on Wednesday.
The miscreants looted in the UCO bank located in Bapuji Nagar under Capital police limits and decamped with Rs 13 lakh cash along with nearly 70 packets of gold ornaments, leaving the officials and customers stunned and fearful.
Soon after the incidents, Twin City Commissioner of Police Yogesh Bahadur Khurania along with other senior police officials and the scientific team reached the spot.
Acting on the complaint lodged by the bank official, the police have started probing into the matter.
Meanwhile, eight persons including three bank staffs have been detained by the police for interrogation in the case.
As the miscreants have taken the hard disk of the system where the CCTV footage had been stored, the investigators were interrogating the nearby shops. The police have also collected CCTV footage installed at the nearby shops to get a clue about the happenings and to identify the miscreants.
Dhaneswar Behera, working as Peon in the bank, informed that he reached the bank around 9.30 am today and opened the shutter of the bank.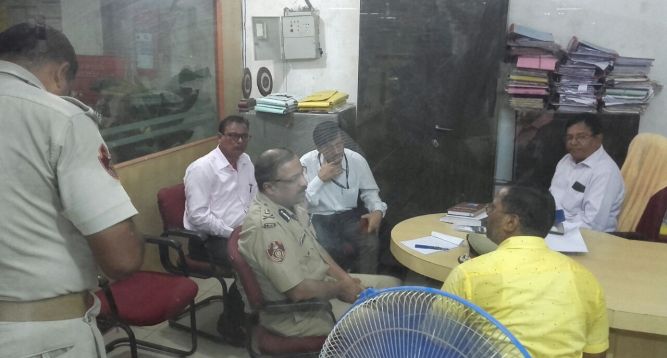 Barely few minutes after a man entered the bank and asked for a withdrawal form. By that time, some of the bank staff had come to the office, he added.
After that one by one five persons entered the bank. They started threatening with their handheld guns and sharp weapons, besides asking the bank staffs and customers to give their mobile phones to them. Then, the miscreants thrashed some of the staff who did not respond to their instructions – Behera recalled.
The goons were speaking in Hindi and using slangs (saale tereko jaan pyara nahi hai kya. Jaa jaldi uss room pe ulta khada ho ja) to the people present inside the bank, said Behera.
After the Senior Bank Manager SN Bastia and Cash Manager Asit Mohanty entered into the bank, the goons asked for locker's key to both by showing sharp weapons at them. The goons took the key and decamped with Rs 13 lakh cash and nearly 70 packets of gold ornaments worth more than Rs 1 crore, police sources said.
Police have recovered nine bullets from the spot which were believed to have carried by the goons.
Primary investigation into the case suggests that the goons were five in number and they used a car to reach the bank and commit such crime. The investigation is on to nab the culprits soon. We have sealed all the entry and exit points of the city and have ordered the police staff for a thorough check of the vehicle – said the Police Commissioner.