BCJD Sweeps Utkal University Students Poll
Bhubaneswar: Biju Chhatra Janata Dal (BCJD, the students' wing of ruling BJD, trounced National Students Union of India (NSUI) and Akhil Bharatiya Vidyarthi Parishad (ABVP) to win all seats in the student union elections of Utkal University.
BCJD candidate Mahesh Prasad was elected as the president of university students' union on Wednesday while Ipsita Sahu was elected as General Secretary of Utkal University.
Lalatendu Mallick has been elected as Vice-President of Utkal Varsity.
"I am very happy that I am elected as president of Utkal University. I would like to thank my friends and all students. I will work for the development of the University with the blessings of our beloved Chief Minister Naveen Patnaik," said Mahesh Prasad.
BCJD presidential candidate Mahesh defeated ABVP candidate Gayatri Sathpathy and NSUI candidate Ashok Nayak.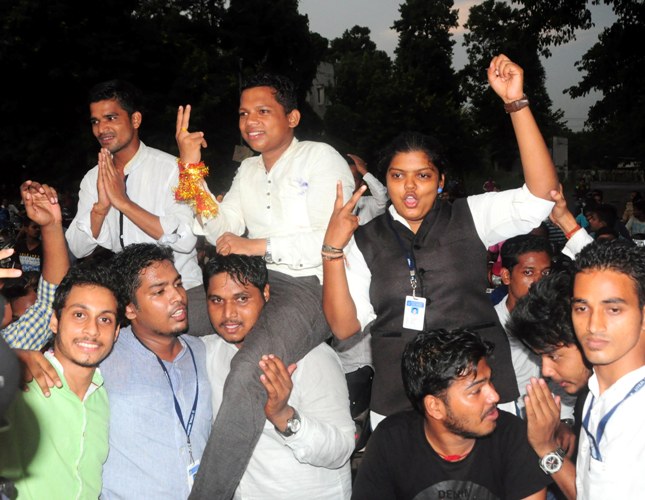 BCJD candidates Balaram Lenka and Siba Sankar Mohanty were elected as Cultural Secretary and Athletic Secretary pots at Utkal University.
Similarly, BCJD candidates also won President and General Secretary posts at Ravenshaw University in Cuttack.
Lalat Keshari Das and Subrat Satpathy have been elected as President and general secretary of Ravenshaw University respectively.
Students' Voice candidates Anusuya Tripathi, Sangeeta Panda of Ramadevi Women's University College elected as President, General Secretary respectively.Swagatika Mohanty, Silbhasa Badajena were elected as president, secretary respectively of Utkal University Law College.