Bhubaneswar: Before the demonetization by the Narendra Modi government, the Odisha BJP was on a land buying spree in various parts of Odisha. The BJP bought land in 18 districts of Odisha.
"Before note ban, BJP bought land in 18 districts of #Odisha & negotiations on for a few more places," tweeted Odisha Congress.
The Congress party also shared some documents on social media, which shows that the state unit of BJP has brought land in different parts of the state.
Congress alleged that the market value of these parcels of land was much higher than was quoted in land deeds.
It said the possibility that the rest was paid from black money, not an uncommon practice in land deals, is not being ruled out.
Records of the deals show that the BJP had bought nearly two acres of prime land in Kendrapara district. The sale deed was executed in utmost secrecy with even local leaders of the party kept in the dark.
The two-acre plot in Kendrapara district is worth about Rs 45 lakh. It was bought in August by Surendranath Lath, the BJP's in-charge of the 2014 Lok Sabha and assembly elections in Odisha.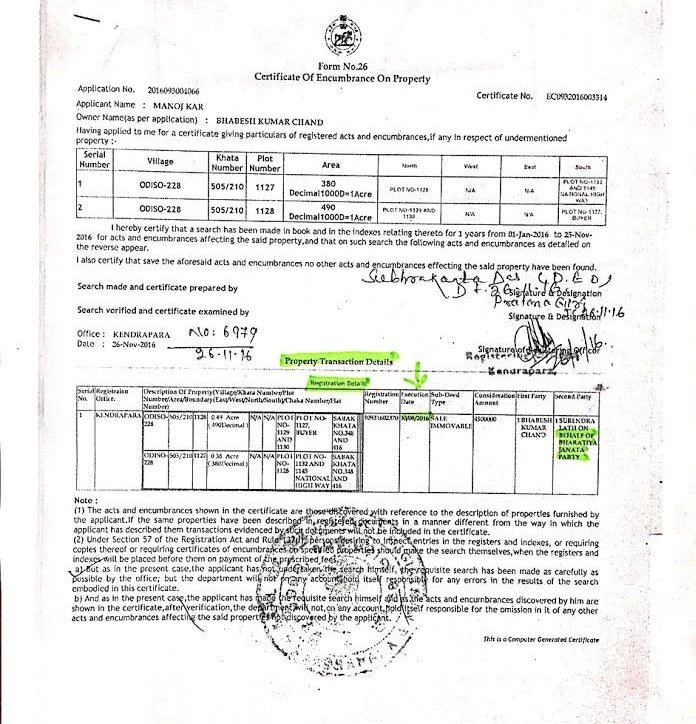 The plots, located near Gop traffic junction on the highway (bearing plot Nos. 1127, 1128 and khata Nos. 505/210 and 505/228), belonged to Bhabesh Kumar Chand, a local businessman.
Similarly, Lath had bought a land plot (khata No. 742, plot No. 457/4409) at Kheresa village in Jagatsinghpur urban area in September on behalf of the BJP. He purchased the land for Rs 8.25 lakh and paid Rs 66,000 as stamp duty.
In October, about 10,000 sq ft of prime land near a national highway in Berhampur was bought for Rs 20 lakh. The plot registered in the name of the BJP is situated in Berhampur under Brahmapalli mouza near the entrance to the Silk City close to the national highway.
Another plot was bought in Jharsuguda. They have bought the land near Biju Patnaik Chhak at Badmal during the auction by a bank.
However, BJP state president Basant Panda clarified that the party has planned to purchase land in all the organizational district headquarters of the state.
He said the land purchasing has nothing to do with demonetisation.