IMS celebrates National Youth Day
Bhubaneswar: The Institute of Media Studies (IMS) on Friday organised a seminar on 'Role of youths in contemporary society' on the occasion of birth anniversary of Swami Vivekananda and celebrated the National Youth Day on its premises.
Speaking on the occasion, former principal and NSS training coordinator of Odisha University of Agriculture and Technology Prof Jantrana Parikshita paid tributes to the great son of the soil and urged the students to live up to their own highest idea and strive for it to make it possible.
"Swamiji teachings are a great source of learning for all of us and we continuously strive to evolve into a better service for the greater good of the citizens," he said.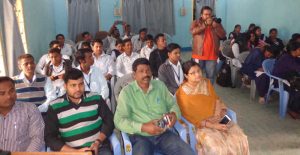 Secretary of Human Rights Education Pradipta Nayak said today's youths are at a critical juncture while the entire country is passing through a crisis. Youths should raise their voices against any violations pertaining to the human rights, he added.
Among others, State Convenor of Jana Swasthya Abhijan Gouranga Charan Mohapatra, Secretary of Bakul Foundation Sujit Mohapatra, Director of IMS Prof Upendra Padhi and faculties and students were present.