Bhubaneswar: It came as a pleasant surprise for the visitors and moviegoers at BMC Bhawani Mall on Sunday afternoon, as around 60 young boys and girls, all medical students from All India Institute of Medical Sciences (AIIMS) Bhubaneswar, were seen performing on different dance numbers, in the open space right in front of the commercial complex.
As it turned out, the students were performing a flash mob on road safety theme at BMC Bhawani mall premises with support from Bhubaneswar Municipal Corporation and Bhubaneswar Urban Knowledge Centre of BDA.
The activity was aimed at creating awareness and sensitizing citizens, especially youngsters on various road safety issues, coinciding with the ongoing Road Safety Week celebration from 11th Jan to 17th January.
The students performed on popular Bollywood dance numbers such as Swag se Karenge Sabka Swagat …, Dhoom Dhoom .. , Baddameez dil … etc. while simultaneously enacting role play of common road safety and traffic violations. Announcements on road safety, especially safety of pedestrians were made during the intervals while several students were holding placards with catchy slogans on the theme.
The first act was to sensitize pedestrians especially Jaywalkers who often cross the road recklessly while listening to music and without noticing the movement of traffic thus facing accidents and endangering lives of others.
The second act focused on rash driving by youngsters who often violate all traffic rules and move in groups at alarming speeds, endangering lives of pedestrians and other fellow motorists. The third act was on the importance of crossing the roads and junctions through zebra crossings only and avoid crossing from the middle of the roads.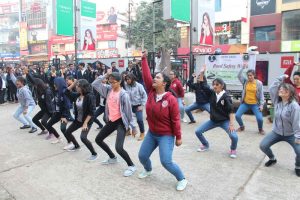 BMC has also launched a social media campaign on the theme of road safety educating and sensitizing citizens on safe driving, pedestrian safety and dangers of acts like wrong side driving, rash driving, jaywalking etc.
It may be noted here that, BMC in collaboration BDA and Bhubaneswar Smart City Limited had carried out experimental road safety improvements at Rupali Square in the city, providing waiting space for pedestrians while crossing the junction, temporary traffic bulb-outs, clearly demarcated pedestrian space and zebra crossings etc.
The city is presently implementing adaptive traffic signal control system at 58 major junctions wherein specialized pedestrian signals are being incorporated for an easy crossing of the junction through zebra crossing by pedestrians.
Pedestrians will be able to cross the junctions with convenience when these pedestrian signals turn green as vehicles from all approaches will stop for that period. Similarly, footpaths are proposed to be further widened and made pedestrian friendly on all major streets as part of the complete streets project being undertaken by the city agencies.
To the delight of the students of prestigious AIIMS, the performances received an enthusiastic response from a sizeable audience which gathered at the place within no time. It was truly encouraging to perform in front of such a vibrant crowd and we feel our goal of spreading awareness on road safety through this acts got fulfilled to a greater extent, said final year medical student Vinayak Prakash.
Echoing similar view, 2nd-year student Subhashish Nayak said the students also used the opportunity to propagate about their upcoming annual fest Chiasma slated to be held from February 2nd to 6th.