New Delhi: Odisha Parba-2018, a three-day-long mega celebration of Odisha's culture, tradition, heritage and cuisine commenced in the heart of the national capital on Friday.
Odisha Parba is organised by Odia Samaj, New Delhi at India Gate. Denizens from every nook and corner of Delhi NCR will witness the unique culture, heritage, tradition, cuisine and various other delights from this beautiful coastal state.
Along with the rich heritage, the illustrious history and saga of valour of Odisha's brave hearts shall also be showcased in the Odisha Parba which is open for public till 11th March 2018.
Chief Guest of this magnificent inaugural ceremony, Dipak Misra, Chief Justice, Supreme Court of India inaugurated the mega event by lighting the lamp. Among others, Union Petroleum Minister Dharmendra Pradhan was also present at this inaugural event.
Speaking on this occasion, Justice Deepak Misra said, 'I am quite delighted to be a part of Odia Parba yet again for its 2nd Edition. We have completed 200 years of Paika Rebellion and I am proud to say that I was born in Banipur which is quite famous for its Paika fighters. Let's come and celebrate this event at the national capital which is a platform to bring together Odias and showcase our rich culture and heritage'.
Pradhan said, 'The work of Odia Samaj is worth praising! This 3-day festival would no doubt create a buzz as artists and vendors have been invited from the nooks and corners of Odisha to highlight our rich culture and heritage. I am glad to be a part of this event which would take even the non-odias through a journey of Odisha".
Addressing the inaugural ceremony, Sidhartha Pradhan, President of Odia Samaj said, "This is the 2nd edition of Odisha Parba after the successful first. Through this festival, we want to show the people of Delhi the rich culture and heritage of Odisha. People can now see glimpses of our culture through the handlooms like Sambalpuri saree, Kotpad saree etc. and mouth-watering dishes like Gupchup katki Chaat, Pitha etc. Have a look at all our stalls and enjoy this 3-day event."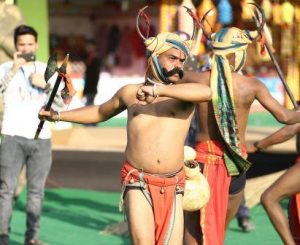 Top names from the entertainment industry of Odisha enthralled the audience.  A dance show titled 'Chota Mora Gaanti' was performed by Guru Chandrakanta Sutar and disciples.
Pancha Paika dance by Pravat Kumar Swain & group took the viewers through the journey of valour and sacrifices made by Odisha's brave hearts, against the British oppression. On a lighter vein Standup comedy monarch, Kuna Tripathy kept everyone in splits.
Ghumura & Naga Nacha by Adi Sanskriti added colour and zest to the evening. Eventually, contemporary and Sambalpuri songs by prominent Odia singers like Abhijit Majumdar, Preetinanda and others notched up the entertainment quotient of an already magical evening, with their popular numbers and high energy.
On this special occasion a coffee table book titled "Valour in the veins- The saga of the Indomitable Spirit of Odisha" was also launched. The book will soon available for sale on major online portals like Amazon, Flipkart etc.
Day 2 of the event will witness a world-class fashion show, conceptualized by Sunil Sethi, President Fashion Design Council of India. It shall showcase the beautiful handlooms of Odisha in an innovative and contemporary style.
Besides this another new chapter added this year is a painting competition titled 'Aakar' for below children below18 years of age. The theme of this competition is "Spirit of Odisha". The painting competition for children shall be conducted between 12 pm to 2 pm and the reporting time is 11 am. The competition will be held on 10th & 11th of March.
Sculpture gallery by Padma Shri Sudarshan Sahoo, fine art demos & workshop, live demos by renowned Odia artists, sale and display of beautiful artifacts and exquisite handlooms, mouth-watering Odia delicacies, folk dances and music shows are some special aspects of the mega event.
The 2nd edition of Odisha Parba has covered 50% more area than last year; totally spreading over an area of 2 lakh 60 thousand sq. ft, the event is showcasing the rich legacy of Odisha. The entrance gate designed in the shape of 'Dola Bimana' replicates a common sight in Odisha, during the festival of Holi.
Intricate pattachitra design is adding colours to this decorum. A Grand Stage set up with backdrop of historic Barabati Fort is evoking the glorious past of Odisha.
This year the entire food court has been designed in a fort style, reflecting the ambience of "Baarah Maasi Tera Parba", which reflects Odisha's passion for festivals in one calendar year.