2019 elections: Odisha to go to polls in four phases
Bhubaneswar: While the general election will be held across the country in seven phases, it will be held in Odisha in four phases, said the Election Commission of India (ECI) on Sunday.
Odisha will face Lok Sabha and Assembly elections simultaneously.
Both Lok Sabha and Assembly elections will be held in Odisha in four phases – April 11, 18, 23 and 29.
Lok Sabha poll details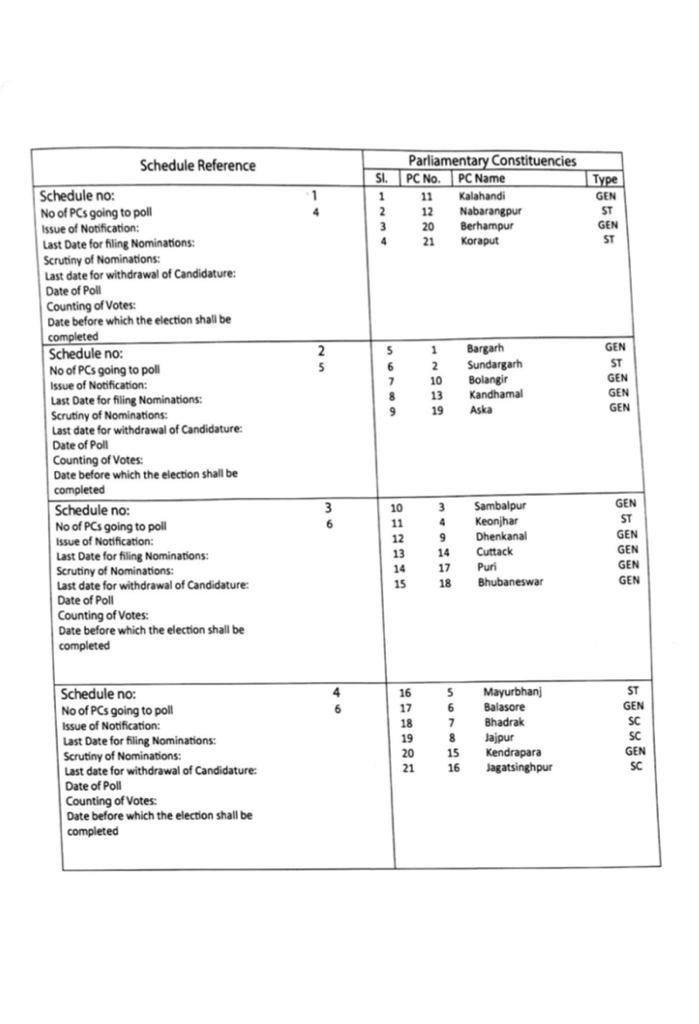 Assembly poll details
April 11: Nuapada, Khariar, Umerkote, Jharigam, Nabarangpur, Dabugam, Lanjigarh, Junagarh, Dharamgarh, Bhawanipatna, Narla, Chhatrapur, Gopalpur, Berhampur, Digapahandi, Chikiti, Mohana, Paralakhemundi, Gunupur, Bissam Cuttack, Rayagada, Laxmipur, Kotpad, Jeypore, Koraput, Pottangi, Malkangiri and Chitrakonda.
April 18: Padampur, Bijepur, Bargarh, Attabira, Bhatli, Brajarajnagar, Jharsuguda, Talsara, Sundargarh, Birmitrapur, Raghunathpali, Rourkela, Rajgangpur, Bonai, Birmaharajpur, Sonepur, Loisingha, Patnagarh, Balangir, Titlagarh, Kantabanjhi, Baliguda, G. Udayagiri, Phulbani, Kantamal, Boudh, Daspalla, Bhanjanagar, Polasara, Kabisuryanagar, Khallikote, Aska, Surada, Sanakhemundi and Hinjili.
April 23: Kuchinda, Rengali, Sambalpur, Rairakhol, Deogarh, Telkoi, Ghasipura, Anandpur, Patna, Keonjhar, Champua, Karanjia, Dhenkanal, Hindol, Kamakhyanagar, Parjanga, Pallahara, Talcher, Angul, Chhendipada, Athamallik, Baramba, Banki, Athagarh, Barabati-Cuttack, Choudwar-Cuttack, Cuttack Sadar, Puri, Brahmagiri, Satyabadi, Pipili, Jayadev, Bhubaneswar Central, Bhubaneswar North, Ekamra Bhubaneswar, Jatani, Begunia, Khurda, Chilika, Ranpur, Khandapada and Nayagarh.
April 29: Jashipur, Saraskana, Rairangpur, Bangriposi, Udala, Badasahi, Baripada, Morada, Jaleswar, Bhograi, Basta, Balasore, Remuna, Nilgiri, Soro, Simulia, Bhandaripokhari, Bhadrak, Basudevpur, Dhamnagar, Chandbali, Binjharpur, Bari, Barachana, Dharmasala, Jajpur, Korei, Sukinda, Niali, Salipur, Mahanga, Patkura, Kendrapara, Aul, Rajanagar, Mahakalapada, Paradeep, Tirtol, Balikuda-Erasama, Jagatsinghpur, Kakatpur and Nimapara.