A book release ceremony was held in the Central University of Odisha on 8th February at the Sunabeda Campus. The Vice Chancellor I/c Prof. Sharat Kumar Palita released the book on 'Wild Yam: An Indigenous Neglected Food Plants', authored by Dr. Debabrata Panda, Asst. Professor in the Department of Biodiversity and Conservation of Natural Resources, CUO. The book is also co authored by Ms. Bandana Pradhan, Research Scholar of the same department.
Prof. Sharat Kumar Palita, Vice Chancellor, Central University of Odisha, while speaking on the occasion congratulated both the Authors of the book and wished them a happy and prosperous career ahead. Dr. Debabrata Panda addressed the august gathering and told that present book was the comprehensive and updated synthesis ever made available on Wild Yams: An Indigenous Neglected Food Plants and this is a valuable addition to the biodiversity literature with global and regional relevance. It provides baseline information on Botany of wild Yam species used by tribals of Koraput and also highlights the recent progress in Nutritional and pharmacological properties of wild yam species for addressing future food and nutritional security.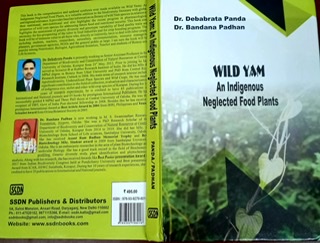 Also present on the occasion were the Registrar of the University Dr. Asit Kumar Das, Mr. K. Koahala Rao, Finance Officer, Dr. Ram Shankar, Controller of Examinations and Dr. Jayanta Kumar Nayak, Dr. Pradosh Kumar Rath, Dr. Alok Baral, Dr. Ramendra Kumar Parhi, Dr. Phagunath Bhoi and faculty members of the University. The vote of thanks was presented by Dr. Debabrata Panda.