Expressions 2019: ITER University wins fashion event
Bhubaneswar: ITER University emerged as the winner with Vogue Brigade from XIMB as the runners up in the Carnival De Vogue, the fashion competition event of Xpressions, the cultural-management fest of Xavier Institute of Management, Bhubaneswar (XIMB).
The competition witnessed participants from three different colleges who came together to showcase their beauty, glamour, and grace at XIMB here.
To make Carnival De Vogue a raging success, students from Birla Global University, ITER and XIMB participated in huge numbers.
The theme of the Carnival De Vogue, this year was "Time period – taking the fashion of the 60s,70s, 80s & 90s and modernizing it".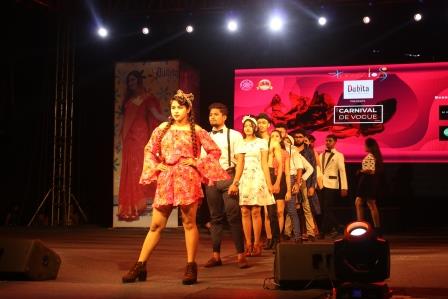 Carnival De Vogue was hosted on Saturday, the second day of the Xpressions 2019. Like every year, Carnival De Vogue attracted all the fashionistas of XIMB, who gathered in large numbers to witness the style icons.
This year, Carnival De Vogue, had two rounds, the first round was on the theme 'The Time Period' and the second round was on the theme 'Colours of Life'. Fashion designer Reemli Mohanty presided over the event to judge the participants' performances.