Top Ollywood actress Prakruti Mishra has been hitting the headlines for wrong reasons. She has been in headlines after a video, in which she was seen being manhandled by her co-actor Babushaan Mohanty's wife on Bhubaneswar streets.
On Saturday the actress shared a story on her Instagram, in which she said, "I am not perfect, I am ORIGINAL."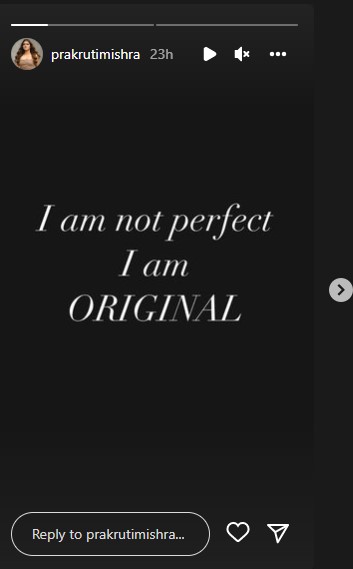 Recently, Prakruti Mishra announced her new movie titled 'Draupadi'. The movie, produced by Sashmita Tiadi and Akashdeep Singh, is directed by Ananya Pattanaik.
According to her the movie will be released in Odia and Hindi language.
Draupadi states the story of a middle-class girl who finds herself misused, abused and used by the men in her life. There are some people she knows and loves, and there are some who want to break her down. Women will always rise from the ashes like Phoenixes, even when they are assaulted, harassed, and humiliated.