Bhubaneswar: Though it started within a short notice, the weekly mega event to promote non-motorised transport (NMT) and road safety 'Patha Utsav' started with a bang on Sunday on Janpath and attracted thousands of footfalls, surprising all expectations.
It also provided enough hint that people's participation in a liveable city-building activity is always there to stay for long.
Yes! If you were there or just missed it by any chance, Sunday's Patha Utsav with a tag on "Ama Rasta'' or our road, brings the idea of people owning the road and not the motorists.
In fact, the concept of NMT is all about giving priorities to walkers or pedestrians, cyclists their due space though it is depleting miserably in the unplanned city growth perspectives. However, this weekly initiative will definitely go a long way to making people aware of road safety, use of lanes in a particular road and how to respect each other's space sensibly in a responsive society.
Apart from the cycling, skating, walking and recreational events at Stage I and II, events like puppet shows, group dances, physical fitness exercises a stall on Swachha Bharat Mission by the Bhubaneswar Municipal Corporation to make the citizens aware of the Swachha Survkshan 2017 and art and craft activities by two leading city-based institutes Art Godaam and Art Ya Craft attracted crowd.
The cycles were managed by Joy Odisha and the skaters were from Odisha Skating Academy.
Musical group Ama Kalakar Parivaar, Shakuntala Music Group and Vignanz attracted the crowd with their beautiful performances. Dance groups like Sizzlers, I Dance Plus and Dance WorkZ also pulled the crowd.
Gifted child Neha Niharika Kar, as a member of Shakuntala Music Group, performed at Stage II in front of the Ram Mandir and mesmerized the crowd with her sweet and smart songs and especially with her ability to sail through all types from the golden era to the present day hits of Bollywood.
City-based Bakul Foundation and Women In Society Help (WISH) did try innovative ideas to motivate people for their cause and message for the betterment of the society. While Bakul brought Ollywood actor and politician Akash Das Nayak to make the story-telling session more interesting, WISH introduced kids with various talents to showcase them during Patha Utsav.
Children's organizations like People's Cultural Centre and Hamara Bachpan also organized activity based programs for children and especially for marginalized children and the participants enjoyed their time at Patha Utsav.
Earlier at Stage I near Master Canteen Square, Industries, School and Mass Education Minister Debi Prasad Mishra, Tourism and Culture Minister Ashok Chandra Panda, BMC Mayor Ananta Narayan Jena, MLAs Priyadarshi Mishra and Bijay Kumar Mohanty and local MP Prasanna Patsani were present. Among others Special Secretary GAD Ashok Meena, BMC Commissioner Dr. Krishan  Kumar, Jajpur Collector Ranjan Kumar Das, Deputy Mayor K. Santi and corporators were present.
Nodal officer for Patha Utsav and Member Enforcement BDA Bhabani Chayani was also present.
The BMC Mayor thanked all citizens for participating in the weekend event and also requested them to remember the cleanliness agenda of Patha Utsav, which has become a successful brand for the Smart City Bhubaneswar to promote NMT.
Four winners were given prizes of Rs 2,000 each for coining the new name for the city's unique street festival on Sunday morning. They were given the cheques during the event. They are Loknath Patra, Bharat Bhusan Sahu, Dhrub Patwari and Madhumita Ratha.
Children's Cause Comes First:
While little babies on their learning process to walk down the street and even many still on the cradle, did come on Sunday to Janpath to have a feel of the Patha Utsav with their parents, and especially supporting mothers, many were seen enjoying their time among the safe surroundings of Patha Utsav.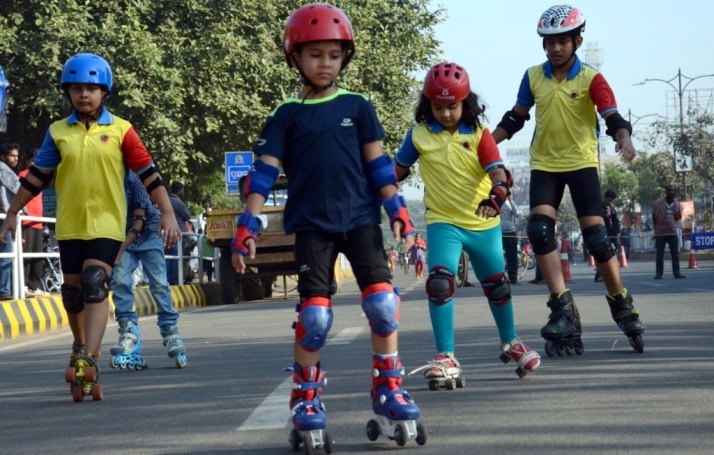 Lots of children were found cycling and playing the activity games with numerous social service organizations along the Janpath and participating in the reading activities and art making.
Today BMC Commissioner Dr. Krishan Kumar visited the Bakul area during Patha Utsav and wrote a "tiny tale'' for the kids. Bakul was inviting people to write `tiny tales' so that the young readers coming for reading sessions would imbibe many things from those write-ups.
Kumar wrote "Today again we meet here to celebrate our freedom on streets. Our children deserve public spaces, which are safe. Can they walk to school? Can they cycle to school? Today, it's becoming difficult because of fear of vehicles. Can we change that? Yes! Today is the day to start. Let's create streets/Janpath where children can play, enjoy, socialize, and learn to be active members of society."
"Tiny Tales'' by people highlighting the kind of world they want #foreverychild. This was a collaboration with UNICEF, which has been mobilizing writers worldwide such as Paulo Coelho to write such tiny stories in about seven lines. About 50 individuals today wrote such stories in both English and Odia including actor Akash Das Nayak.
It can be mentioned here that the Janpath Transit Oriented Development (TOD) corridor is being redesigned so that the streets would become child-friendly and in future pedestrians and cyclists would commute safely to their destinations and would not much be worried about safety. This will be carried out under the Smart City initiative.
The Patha Utsav, in the future, will also try to inculcate more child-friendly approaches and the grooming for them as the Bhubaneswar Smart City Proposal has emphasized on a child-friendly and liveable city for the future generations to come.