Bhubaneswar: Gurjinder Singh's successful penalty corner conversion gave host Kalinga Lancers a 1-0 victory over Delhi Waveriders in their opening match of Hockey India League (HIL) at the Kalinga Stadium here on Sunday.
While both the team struggled to edge out each other throughout the match, the successful conversion of the penalty corner in the beginning of the fourth quarter gave the victory to the host team.
Former champions Delhi got as many as six penalty corners in the match. But, they failed to capitalise the chances.
From the beginning of the first quarter, Delhi got a chance to score. Mandeep Singh found a ball with some space but he took time to shoot, allowing Kalinga defender to close the space down and forced his shot to go wayward in the 10th minute.
Three minutes later, Kalinga's cohesion seemed to have clicked in the 13th minute when Dutch playmaker Billy Bakker played a one-two with Glenn Turner to set up beautifully from the baseline but Dharamvir Singh's touch was heavy as the ball soared into the stands.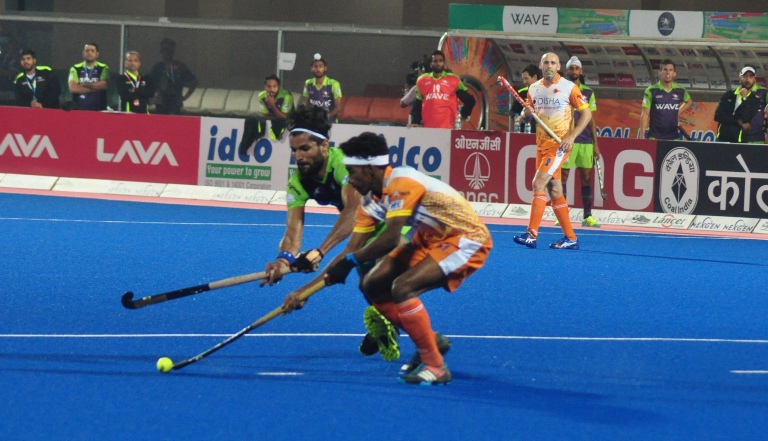 Delhi earned a penalty corner in the 21st minute. Rusher Matthew Dawson charged down to block Rupinder Pal Singh's flick, and the home crowd was relieved.
Kalinga mixed the build-up play with the counter-attacking game and penetrated the Delhi circle regularly towards the end of the second quarter. In one such moment, Bakker was again in the centre of action but he was denied by an alert Delhi goalkeeper Vincent Vanasch.
Delhi stepped up their game and earned two penalty corners in the third and fourth quarters but they failed to make them count. While one was wasted due to poor trapping, the other saw Rupinder again failing to beat the first rusher, Amit Rohidas.
Delhi's day of missed opportunities continued when Talwinder Singh, leading a fierce counter-attack, had only goalkeeper Andrew Charter to beat. But seeing the danger, Charter came ahead from his place to dive and see off the threat.
The Australian custodian was again asked to palm away a ripping back-hander from Manuel Brunet.
Meanwhile, Moritz Furste could only see a deflection go to side-netting following a brilliant move from Dipsan Tirkey from the left.
Kalinga, however, made the most of the sole penalty corner chance when Gurjinder fired home, making it 1-0.