Bhubaneswar: Jyoti and Jhilik will share screen in their upcoming Odia film Ole Ole Dil Bole.
The Mahurat of the upcoming Odia film was held at a temple in Bhubaneswar on Sunday. The shooting of the movie will begin soon while it will be released this year.
Jyoti and Jhillik will come together in Ole Ole Dil Bole for the second time. The actors duo was last seen in Odia movie Tu Mo Hero.
'Ole Ole Dil Bole' is the first venture of Gitanjali Production. Jyoti and Jhilik's on screen chemistry will be the USP (unique selling point) of this film. Apart from this romantic pairing, superstar Sidhant Mahapatra is playing a different role.
You never seen him in such type of character on his 25 years carrier, claimed the production house. . It will be produced under the banner of Geetanjali Productions.
'Ole Ole Dil Bole' is not a single zoner movie. It is a complete package of love, romance, emotion and action. You may get super comic excitement with the similar track and some super thrilling experience through the turn and twist. You may call it entertainment with a new taste.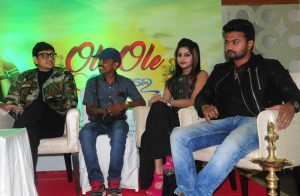 'Ole Ole Dil Bole' is the directorial debut of Kailas Mohapatra. This movie is based on popular play 'Banchibaku Hele' which is directed by him, played nine times and got a huge appreciation both from audience and critics.
Director Kailas Mohapatra and Producer Bibhuti Busan Sarangi are both from same background related to Sangeet Mahavidyalay. So, he gave the chance to Kailas and take the challenge to produce a original script instead of a remake one.
Story revolves round mainly two things. ie, respect to love and responsibility of family. There is a suspense throughout the story and it continues till end. Who will see the film he/she must relate him/her to it.
Shooting will start from from 23rd January and most of the part will be shot in Odisha and the rest of the part will be shoot in Pataya, Bankok, Phuket of Thailand.
The music will be composed by Prem Anand. The editor of the film is Rajesh Nayak. The story and dialogues are written by journalist Niranjan Reddy.