Bhubaneswar: A calendar with Odia film actor Babushaan Mohanty being featured on its cover page was launched at a special event held here on Sunday.
Babushaan unveiled the Signature 2020 Calendar along with Joyeeta Roy, the founder Director of Signature 24 productions, a city-based event management company.
Signature 2020 calendar is the signature product of signature 24 productions, a first of its kind, celebrity calendar in Odisha showcasing 16 celebrities from different work field of India.
Babushaan said, "For the first time I have been part of a calendar shoot. Thanks to my team Signature 24 for convincing me to be a part of this calendar, specially Joyeeta. I had a wonderful experience shooting with my team and have been really excited since the shoot of this calendar. It was a very different experience.
I am seen in a completely different look in the calendar and moreover the theme had been a portrait and black and white. I tried doing something different and I really hope that my extended family who loves me would appreciate this calendar."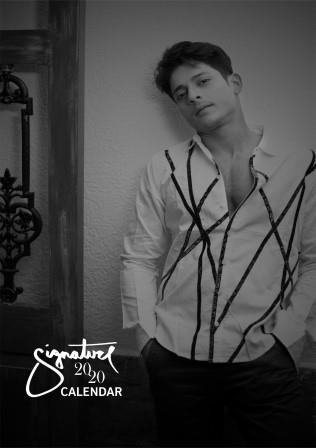 "I have always tried to do something different in Odisha and Signature 2020 was yet another venture which is a first of its kind in Odisha, a celebrity calendar. The sole idea was to showcase our associates in a "Signature Style" which is very different from their own regular Signature Style," said Joyeeta Roy.
Bollywood Singer Aneek Dhar, Karamveer Chakra Awardee and Guinness World Records holder Dr. Satyapira Padhan, actor Sujeet Paikary and his wife Sasmita Dash, Food Entrepreneur Rohit Srivastava, International Sand Artist Manas Kumar Sahoo, Food Blogger Mister Tikku from Delhi, Anchors Lipsa Panda, Sunita Garabadu, Mrs India Universe Universal 2019 Winner and Anchor Moonmun Singh, Fashion Bloggers Lavina Nayak, Shweta Choudhury, Entrepreneur Satish Patra, and his wife along with Producer PR are seen in the calendar pages along with Superstar Babushaan Mohanty.