Angul: At least five persons were killed and about 35 injured after a bus fell off a bridge near Tukuda in Odisha's Angul district on Tuesday.
According to reports, the bus named 'Jahnamamu' fell off a bridge from a height of 20 feet after hitting a bike near Tukuda market in Athamalik area. The incident occurred on national highway-55 under Jarapada police station.
While two persons died on the spot, two others died on the way to Angul district headquarters hospital, said Angul ADM Srinivas Behera.
He said while about 25 persons sustained injuries, 5-7 persons are in critical condition.
"The injured persons have been admitted to district hospital. The seriously injured persons are being shifted to SCB medical college and hospital in Cuttack," he added.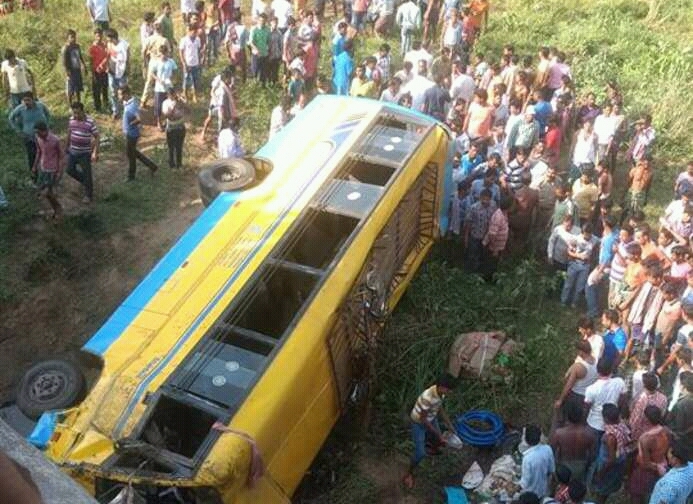 Around 40 persons were on the bus, said sources. The motorbike rider which hit the bus had died on the spot.
Sources also said that the bus was going from Angul to Athamalik.
Angul SP Kavita Jalan said rescue operation was on.
Expressing grief over the incident, Chief Minister Naveen Patnaik announced Rs 2 lakh exgratia to the deceased families and free treatment to the injured persons.
Transport minister Ramesh Majhi said an inquiry has been ordered into the incident and action would be taken accordingly.
This is the second accident in the Athamalik area.
On September 9, at least 19 persons were killed and around 25 injured when a bus fell off a bridge in the area.