Pak Agency Apologizes For Hoisting Indian Flag Upside Down
Bhubaneswar: The organizer of the Saarc Young Parliamentarians Conference has tendered an apology for wrongly hoisting the Indian flag during the inaugural plenary session of the conference.
BJD MP Kalikesh Singhdeo, who is in the line of fire for remaining silent over the issue, on Friday tweeted that Pakistan has apologized for the mistake.
SAARC flag issue apology from Pak- mistake rectified promptly after protest. Govt to take further action if necessary – tweeted Singhdeo.
He also posted the apology letter of Kingly Solutions (Pvt) Ltd, which was awarded the contract for designing and decoration of the stage for the inaugural session of the Saarc Young Parliamentarians Conference held on August 16-17 at Islamabad.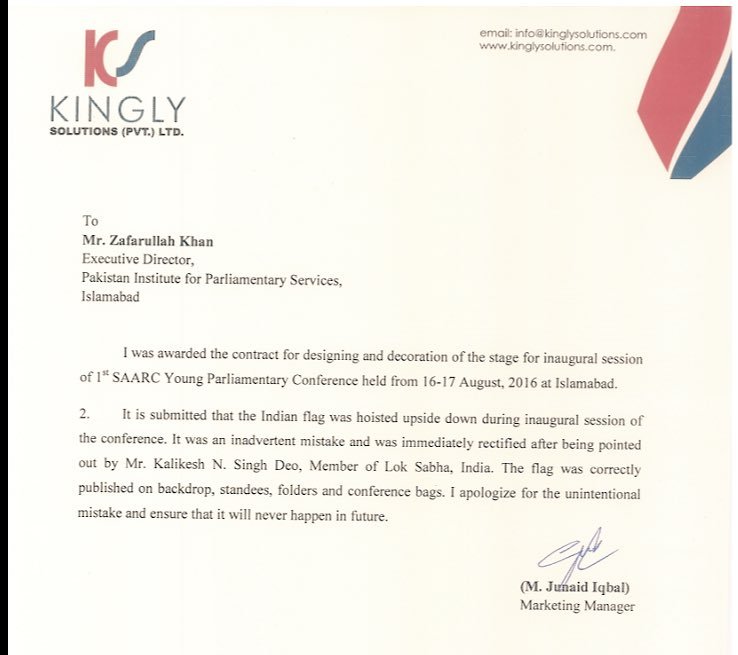 "It was an inadvertent mistake and was immediately rectified after being pointed out by Mr. Kalikesh N. Singh Deo, Member of Lok Sabha, India. The flag was correctly published on backdrops, standees, folders and conference bags," read the letter.
I apologize for the unintentional mistake and ensure that it will never happen in future, – said M. Junaid Iqbal, Marketing Manager of Kingly Solutions (Pvt) Ltd.
It was seen that the flag was hoisted with the green at top and saffron down during the Saarc Young Parliamentarians Conference in Pakistan.
Notably, a complaint was filed on Thursday with the Odisha police against Kalikesh and other two Indian MPs for insulting the national flag.
The other two MPs are Devji Bhai Patel from BJP and Alok Tiwari from Samajwadi Party.